1. Make-ahead meals and no cooking required appetizers
2. Planning a workable menu and advance preparation
3. Decorate for less
4. Setting up for success
5. Get what you really need
I love this time of year! There is something magical about the holidays with all the food, parties, and presents. It is such a special time sharing the joys of the year, being thankful for all we have and creating memories together.
As much fun as the holidays are, there always seems to be so much to do and so little time to do it. Many clients share with me how they dread all the stress that comes with the holidays and worry about it being perfect.
We have all been there – guests arrive late, the turkey gets overcooked, you drop the side dish, you didn't set enough places at the table, you worry about having enough food or dealing with family drama. It is enough to make anyone want to hibernate for the winter.
Yet some of our best memories are baking cookies with that special someone, preparing that favorite family recipe and sharing in the fun and laughter of gathering together. We make memories as we sit down to a beautiful feast with our most loved family and friends.
For me, food is more than just a delicious meal, it brings people together. Have you ever noticed at the holidays, no matter how big or small the house, people always gather in the kitchen? There is a reason for this.   They come for food, but what really matters are the stories shared and memories made. The greatest gift I can give someone is a meal in my home. Not only is it a delicious, nutritious meal, but it is the gift of my time, a display of love and sharing that really makes it special. Food fills the physical need of hunger but being in community with others fills the need to belong and be loved.
So this year, I am sharing my top 10 secrets to help simplify and de-stress your holidays. In this holiday entertaining series, this week's top tips include Make-ahead meals for busy nights & unexpected guests and no-cooking-required appetizers that are amazing.
1. Make-ahead meals
Make-ahead meals are essential for easy dinners all year, but holiday time makes them perfect for impromptu parties and welcoming last minute guests. Note that these are not crock-pot meals that can take up to 8 hours to defrost and 6 hours to cook. The key to efficient make-ahead meals is packaging them in small or individual portions, locking in the best flavor to feed as few or as many as you need, quickly and easily. Use recipes that are complete meals including a protein, vegetable and starch option all in one so when the dinner time is near, there is no extra work required.
One of my family favorites is Italian stuffed shells that can be filled with cheese, vegetables and meats. We get together and make a party out of it, making hundreds. We all have a good time and go home with a few meals in hand.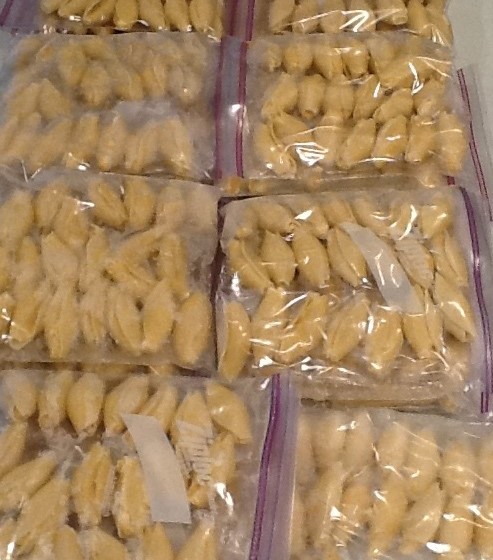 (Italian stuffed shells packaged for the freezer)
Find more Make-Ahead Meals here!
2. No-Cook Appetizers
Sometimes I just don't have the time or energy to cook but people still need to be fed. For simple stunning party food, cheese plates are my go-to appetizer.  They are perfect for the holidays as they can be made ahead of time, require no cooking, and can please any diet with the right accompaniments. Keep a variety of hard cheeses and cured meats on hand and pair them with crackers, nuts, fruits, vegetables, or preserves. Create a beautiful and tasty platter that can serve as first appetizers, first courses and even desserts.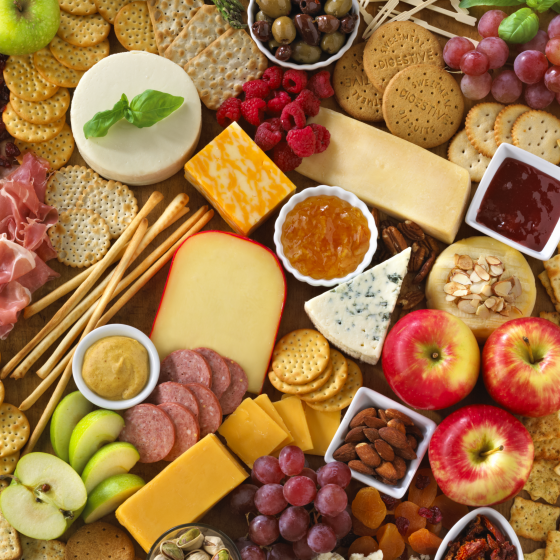 Need help knowing what pairs well together? Get the Pretty Plate Cheese Guide to learn the 3 no-fail cheese plate combinations and a variety of tasty accompaniments that pair well.  This guide is also a perfect stocking-stuffer or hostess gift.
You can also get one of my favorite kitchen tools, the Magic Cheese Knife, to make cutting cheese a breeze!
Happy Entertaining!