Chicken and broccoli cheese casserole is a Complete Meal with no dishes!
Some days just the thought of "what's for dinner" can be too much. It's great to have a few Complete Meal options ready to go that are just "heat and serve". Even better portion these into foil pans so you don't even have to worry about extra dishes.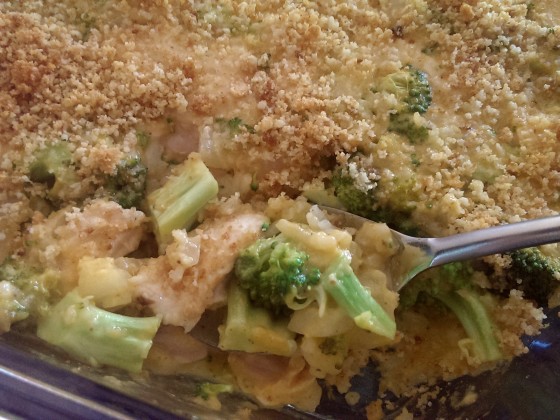 1 tablespoon butter
1 medium onion, diced about 1 cup
1/8 cup flour
1 cup chicken broth
2 tablespoons mustard
2 tablespoons chili sauce like Sriracha
1 cup sharp cheddar cheese
2 cups broccoli
1 cup rice, cooked
1 large chicken breast, cut in 1/2in cubes, about 1 cup
Topping:
1 tablespoon butter, melted
¼ cup coarse breadcrumbs
½ Parmesan cheese
Preheat oven to 400 degrees, and grease a 2-quart casserole dish.
In a large saucepan heat butter and sauté onion, seasoning with salt and pepper.Cook for 2 minutes until tender, add the flour and cook one minute more. Whisk in the chicken broth cooking for 3 min more to make a thick sauce.
Remove from heat; add mustard, chili sauce, cheese, broccoli, rice and chicken stir to coat. Pour mixture into prepared pan. Sprinkle topping mixture evenly over top and bake until bubbling and chicken is cooked through about 25-30 minutes.
Serves 4.
To freeze: make as directed allowing sauce to cool before adding the chicken (you can also use cooked or shredded chicken if that is easier for you). Pour into pan as directed and cover tightly with plastic wrap, then foil. Prepare the topping mixture and keep this separate in a plastic freezer bag attached to the casserole to add just before baking. Thaw overnight in the refrigerator and bake as directed. Or cover with foil and bake for 25 minutes then remove foil and bake for an additional 25-30 minutes until bubbly and chicken is cooked through.