It 's Twin Cities Polish Festival Time!  One of the main reasons I love food is its ability to teach us so many things like about art, history and culture. Food feeds us, but it is also deeply connected to who we are. We have emotional bonds to it. We have rituals, festivals, holidays, and stories to share these foods. We create memories that weave food throughout our lives connecting us to a deeper level. I love the history of food. Where a particular dish comes from and why it is important to us. It is these iconic foods that help define who we say we are. They connect us to past, present and future.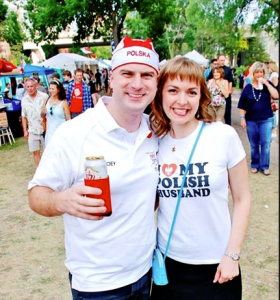 I am lucky enough to be married to a 100% Polish husband. We celebrate our 4 year anniversary this month. Since meeting him I have started to learn more about Polish food and having a fun time incorporating it into our family traditions.
I have tried my hand at several traditional items  even wining first place in the Polish Baking contest for Makowiec, a sweet Polish poppy seed bread in 2012. This year I will be sharing some traditional Polish cultural food favorites with cooking demonstrations at the Twin Cities Polish Festival.  Here are the recipes that will be featured.
Demonstrations will take place on Saturday August 12th, at 11am and 4:30pm and on Sunday August 13th, at 1pm. Come out and visit and learn a little about how these foods came to be and why they are so common in Poland now.
 Pierogi
Dough:                                                                        Makes about 25
2 cups flour
1 egg
½ cup water
2 tablespoons sour cream
½ teaspoon salt
Potato and Cheese Filling:
1 cup Farmers Cheese or dry Cottage Cheese
¼ teaspoon salt
1 teaspoon lemon juice
1 tablespoon sugar
1 egg
1 egg yolk
1 cup smooth mashed potatoes, cooled
Mound flour on counter and make a hole in the center. Drop egg into the hole and begin incorporating the flour. Add water, sour cream and salt slowly mixing until all flour is incorporated. Kneed dough about 10 minutes until firm and slightly elastic, add more flour while kneading if dough is too sticky. Let rest for 10 minutes covered with clean dishtowel.
Divide dough in half and roll into a thin rope about ½ thick and cut into 1-inch pieces. Roll Pieces thin and flat. Cut circles with a biscuit cutter or other use a pierogi mold. Place a small spoonful of filling on one side of the round. Moisten edge with a little water, fold over and firmly press edges together to seal.
Drop pierogi into salted boiling water. Cook gently for 3-5 minutes lift out carefully with a slotted spoon. Pierogi will rise to the top of water when cooked. Serve with butter and sour cream.
Notes: Keep dough covered while working as dry dough will not seal well. Keep formed pierogi separate when uncooked they will stick together looking shape, lightness and possible breaking open.
For the Filling: combine all ingredients in a medium bowl and mix until combined.
Nalesniki
Polish Nalesniki (nah-lesh-NEE-kee) are crepe-like pancakes usually filled with sweet fillings such as jam, fruit, or honey topped with powder sugar and or a dollop of sour cream some can be made with savory fillings as well. Once filled and rolled, they can be baked or pan fried, or dipped in beaten egg and bread crumbs and fried.
1/2 cup milk
1/2 cup lukewarm water
2 large eggs
2 tablespoons butter, melted plus more for cooking
1 cup all-purpose flour
Pinch salt
In a blender or food processor, combine all ingredients until smooth. Transfer to a pitcher, cover with plastic wrap and let rest for 20 minutes. Over medium-low heat lightly coat a nonstick pan with butter. Using about 2 ounces of batter, rotate pan and swirl batter until it thinly covers the entire bottom of pan. Cook about 40 seconds until batter is set and lightly browned. Using a thin rubber spatula carefully peal up one of the edges and turn over to cook about 40 seconds more.
Remove to waxed paper or parchment paper and repeat with remaining batter and butter. Serve immediately or wrap and freeze up to 1 month. (Makes about 8, 8 inch Nalesniki)
For cheese filling:
2 cups farmer cheese (if farmer cheese is not available you can use cottage cheese or ricotta)
1/4 cup of sugar
1-teaspoon vanilla
2 tablespoons of raisins (optional)
1 teaspoon lemon or orange zest optional
To make cheese filling combine 2 cups cheese, sugar and vanilla and stir to combine, fold in raisins and or orange zest if desired.
*Note: if using cottage cheese drain on a paper towel first to remove some of the liquid and blend cheese with sugar and vanilla in a food processor or blender to get texture slightly smoother.
Place about 1-2 tablespoons filling on each nalesniki, fold the sides in first and then bottom, rolling away from yourself, or spread filling over nalesniki and fold into quarters. Sprinkle with powdered sugar on top if desired. Instead of cheese filling try fruit preserves, honey or sweetened sour cream. (mix 1 cup sour cream with 1 tablespoon sugar)
Filled nalesniki may be eaten as is, pan-fried in butter or baked in a buttered casserole dish.
Zapiekani
zapiekanki (plural) or zapiekanka (zah-peeyeh-KAHN-kah), singular. Zapiekanka comes from zapiekac, which means "to bake," and is the culinary term for a casserole. This open-face sandwich is popular street food in Poland. Traditional zapiekanki are made on half of a baguette or other long roll of bread topped with sautéed mushrooms, cheese and ketchup, there are also new varieties such as Hawaiian-style zapiekanki with pineapple, and Greek style with olives and feta cheese others include ham, salami, vegetables, fried onion or chive on the top. The variations are limitless.
ZAPIEKANKi                                             Serves 4
1 long thin baguette, halved
2 tablespoons butter
8 ounces mushrooms chopped, about 2 cups
1 medium onion, finely chopped, about 1 cup
1 teaspoon fresh herbs, thyme, rosemary or sage chopped
1/4 teaspoon red pepper flakes, optional
about 8 slices or 2 cups melting grated, gouda, white cheese cheddar cheese,
ketchup, to garnish
salt & pepper, to taste
Preheat the oven to 400F. In a large pan over medium heat melt the butter add onions cook till translucent, about 3 minutes. And mushrooms, season with salt & pepper sauté until mushrooms are tender and begin to loose their liquid about 5 minutes. Stir in fresh herbs and red pepper flakes if using and cook one more minute. Mushrooms should be slightly wet. Spread equal amount of mushrooms mixture on each half of each baguette, pressing the mixture down with the spoon. Place the prepared baguettes on a baking dish and top with cheese. Bake in the oven for 10 minutes or until cheese.
Obwarzanki
Obwarzanek is an irresistible cross between a pretzel and a bagel topped with poppy seeds, sesame or salt. These twisted ring breads are sold by street food vendors throughout Poland, but are Native to Kraków. Obwarzanek, which comes from the Polish word "to boil," is a chewy, twisted dough ring sprinkled with salt, poppy or sesame seeds, The obwarzanek is protected by the European Union on its Traditional Foods List since 2010. Obwarzanki are bigger than bagels and unlike bagels, they are not toasted or cut in half to make sandwiches.
Note: This is a two-day recipe that takes about 1 hour of actual preparation time.
5 cups/24 oz. Bread Flour
1 tablespoon/0.72 oz. diastatic malt* powder or syrup
2 teaspoons/0.42 oz. table salt
¾ teaspoons/0.1 oz instant yeast
1 1/2 cups + 1 tablespoon/12.5 oz. warm water about 105F
2 Tablespoons/ 1.5 oz sugar for boiling
Poppy seeds, sesame seeds, or coarse salt for garnish
In a mixing bowl, combine the dry ingredients. Add the liquid and continue mixing until the ingredients are evenly hydrated. By hand: Turn the dough onto a lightly floured work surface and knead vigorously for about 15 minutes. By stand mixer: Switch to dough hook and continue kneading at lowest speed for 10-12 minutes. The dough will be ready when it's smooth, silky, and stretches when you pull a pinch away from the mass.
Form the dough into a ball, put it into a bowl and cover with plastic wrap. Let ferment until the dough has swelled to about 1½ times its original size, about 60-90 minutes.
Turn the dough out onto an un-floured surface, punch down, and form it into a thick log shape, about 12 inches wide by about 3inches square. Let rest, covered, for about 20 minutes
Cut the dough in half lengthwise to make 2 strips about 1 inch thick. Cut the strips into 5 equal pieces, and roll each piece into a cylinder about 24 inches long and the thickness of a pencil. Fold the cylinder in the middle to form a double strip about 12 inches long and twist it into a tight spiral. Carefully seal the ends together to form a slender, twisted ring about 4 inches in diameter.
Arrange the obwarzanki on parchment-lined baking sheet, cover well but loosely with plastic wrap and refrigerate overnight.
The next day: Heat oven to 475F. Bring 3 to 4 quarts/3-4 liters water mixed with sugar and bring to a rolling boil.
Take out only as many chilled bagels as you can boil at one time. Boil each one 1-2 minutes. Drain on a cooling rack and sprinkle with desired garnish. Bake on parchment-lined baking sheets for 12 to 18 minutes until they are a rich brown. Let cool for at least 30 minutes before eating.
Makes 10
*Diastatic malt powder breaks down the starches in the flour to sugar which feeds the yeast, resulting in a faster rise, great texture, brown crust, and unique flavor. Diastatic malt is mostly a dough enhancer; non-diastatic malt powder is a sweetener. They are not interchangeable
This recipe is slightly adapted from "The New York Bakers Jewish Bakery Book," published in spring 2011 by Camino Books, recipe for "Krakow Bagels."