The last thing you want to worry about after a long, hard day is "What's for dinner?"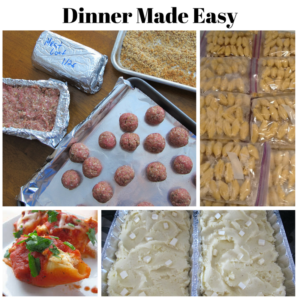 The Dinner Made Easy series focuses on practical mealtime solutions. You'll put home-cooked meals on the table any day of the week, using wholesome ingredients, regardless of how much time you have at that moment. By learning how to efficiently use your cooking time and freezer, you don't have to cook every night to eat well. You'll no longer have to stress; instead you'll easily whip up a dinner that the whole family will enjoy.
The Dinner Made Easy Classes include:
Make Ahead Meals
Homemade food when you have no time or energy to cook
Discover simple techniques and strategies to easily get delicious home-cooked meals on the table every night.
Learn the secrets to prepare and package complete meals that can be used at anytime
Safely thaw and prepare frozen items for quick meals
Learn how to make simple substitutions to fit your family's needs and tastes
Batch Cooking
Maximize your efforts in the kitchen
Save on cleaning and cooking time by batch cooking and prepping. You'll learn how to organize, prepare and package parts of a meal that can be used in several different applications, and create a variety of meals out of a few staple ingredients.
Learn how to cook in bulk but still create individual meals with unique flavors
Discover simple techniques to maximize your time in the kitchen with less effort
Learn how to use key ingredients for several different applications
Flavor Savers

Quality storage locks in freshness and flavor
Lengthen the shelf-life of food you prepare so that it maintains flavor and quality through proper storage. You'll also learn organization techniques so that you know what you have on-hand at all times and you'll waste less.
Identify what foods freeze well and avoid common frozen food pitfalls
Know how long to keep items
Discover what tools and containers work best for storage
Save money by not wasting food that has gone bad
How to safely thaw and re-heat items for quick use