Easy Chocolate Protein Snacks
Back to school time is here. That means the need for healthy on the go snacks is a must. I am always on the lookout for high quality easy to use products. Today I share a recent favorite the new Once Again Amore Almond Spread. It is healthy chocolate goodness. To be honest I could just eat it with a spoon but I did create a new family favorite healthy snack with it too. Truly the entire line of Once Again nut butter products is delicious and is worth trying out.
What I love most about these products is not only are they made with high quality ingredients, that is a given for anything I share. I love their business. The employee owned cooperative is committed to sustainability and integrity. They support organic and sustainable farming methods and the power of community. Companies like this make me happy to buy their products. I know I am not just purchasing taste and quality for my family but supporting other families and the environment a well. Because of this I feel good about spending my money and the products I consume.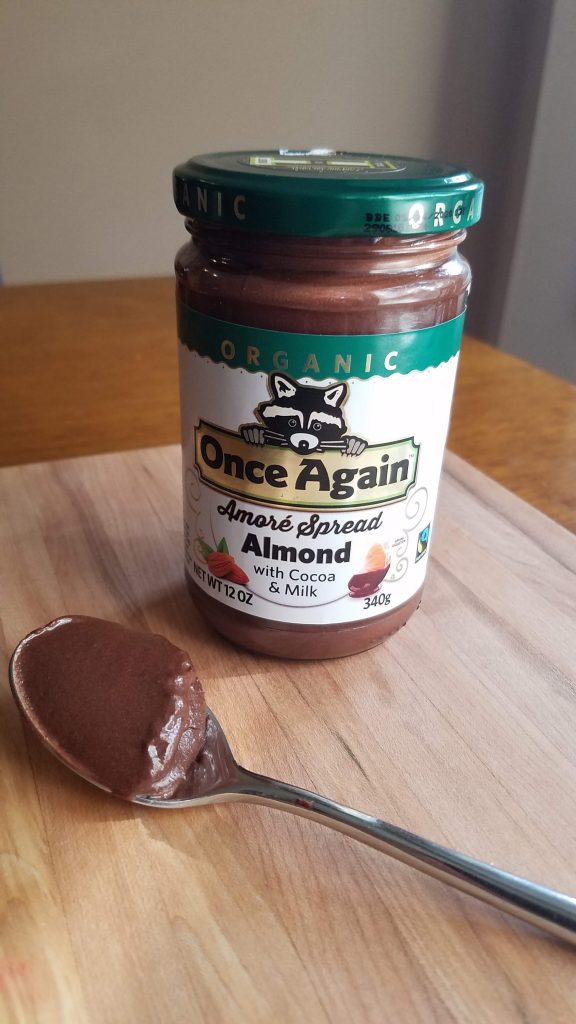 Once Again Nut Butter offers a variety of gourmet organic, natural nut butter products, many of which are also vegan and gluten-free.
Whether you're looking for no stir organic peanut butter, organic almond butter, cashew butter, seed butter or killer bee honey, they have it all! Learn more their  our products or shop online.
Looking for something more that just a tasty spread? Try out these super simple Easy Chocolate Protein Snacks. Using the new Once Again Chocolate Almond Amore Spread and just three other ingredients. You can mix them up with your kids for easy after school on the snacks. It is a little sweet and you can feel good about.
Oh this spread is also good a "frosting" for cupcakes, a dip for crackers or fruit and a healthier ice cream topping!
Easy Chocolate Protein Snacks
1/4 cup Once Again Chocolate Almond Amore Spread
1/4 cup old fashioned oats
2 Tablespoons roasted salted pumpkin seeds
2 Tablespoons hemp hearts/seeds*
2 Tablespoons hemp hearts, or fine flaked unsweetened coconut optional for dusting
Makes 10, 1 inch balls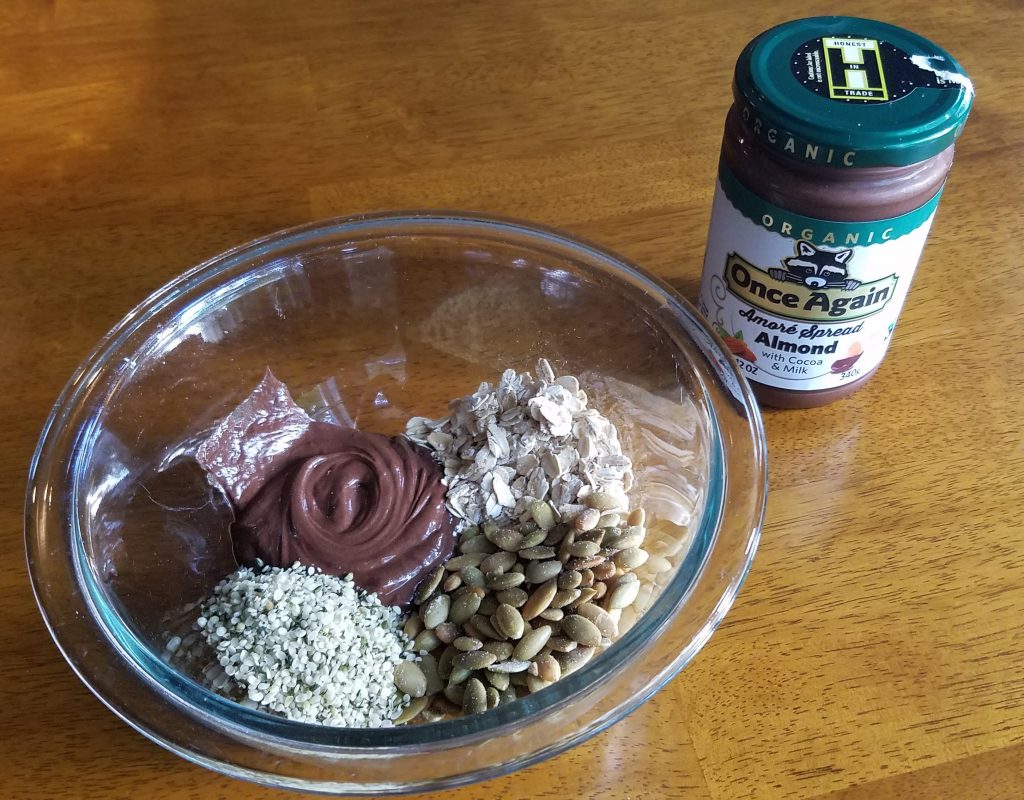 Combine all ingredients in a small bowl and mix well. Using a small cookie scoop, or your hands press and roll the mixture in to 1 in balls. Option to roll balls in more hemp hearts or fine flaked unsweetened coconut for a finished truffle like look.
*Hemp hearts also known as help seeds are very nutritious and versatile with a delightful mild, nutty flavor. They contain over 30% fat, rich in two essential fatty acids. Every serving of hemp hearts add 10 grams protein, 12 grams Omegas 3 & 6.
You can find then in most natural food sections or online. You can also substitute fine flaked unsweetened coconut more oats, pumpkin seeds, flax or chia seeds as well.
Full Disclosure:
Sometimes I receive sample products to test and share my honest opinions about. I will ONLY promote products that I love and currently use myself. I feature these products as they have made my life simpler or more enjoyable in some way. I share them with you only as a resource to better support you in enjoying a simply delicious happy and healthy life. All reviews are my own words and my own opinions. I share them and hope these products and services work for you and bring as much joy to your life as they have to mine.
I will occasionally link to specific sites or include affiliate links to help you purchase similar or recommend products. Again, I will only feature items I currently use and think will truly benefit you and your family. As always it is my true effort to serve you please contact me if you have questions about this process, products I mention or would like me to consider your product for a feature highlight. I am happy to help.