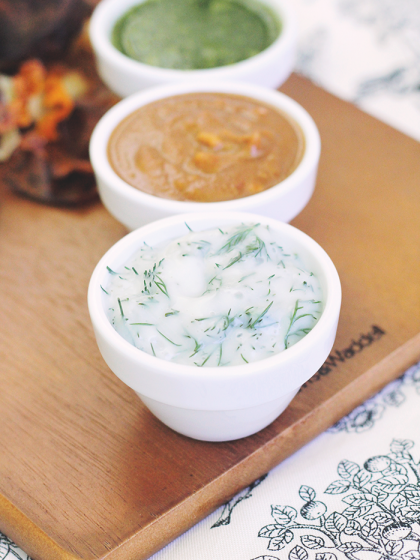 I have found that getting kids, even adults to enjoy vegetables can be quite a challenge. What makes a vegetable unique and tasty can be sometimes as simple as an easy dip. Adding a new flavor, color or texture may be all that is needed to see vegetables in a whole new way. Kids, especially aged 2-4, love to have things in their hands and activities to keep busy. Dips are perfect and allow a sense of independence too. Don't get stuck in the Ranch dressing rut, try out some of these healthy easy dip favorites.
Note: Feel free to adapt these to your own tastes. Where some call for sour cream, yogurt or mayonnaise try mixing it or use what you have on hand. Mayonnaise will be richer and creamier, sour cream will have a light tang and yogurt will be lighter and much tangier. Try it out and find your favorite version for easy dips at home.
All of these recipes list ingredients, just mix together in a bowl or food processor until smooth. Dips usually get better the next day and will keep for up to 5 days if stored well.
Cheese and Onion Dip
1 cup whipped cream cheese
2 tablespoons sour cream
2 green onions, finely chopped
Salt and pepper to taste
Herbed Yogurt Dip
1 cup plain yogurt
1 teaspoon dill
1 tablespoon parsley
Salt and pepper to taste
(Try other favorite herbs as well like rosemary, thyme, oregano or basil)
Curry Dip
1 cup plain yogurt
1 teaspoon curry powder
1 teaspoon honey
Salt and pepper to taste
Ranch Dip
½ cup mayonnaise
1/2 cup sour cream
1/2 teaspoon dried chives
1/2 teaspoon dried parsley
1/2 teaspoon dried dill weed
1/4 teaspoon garlic powder
1/4 teaspoon onion powder
½ teaspoon lemon juice, if it lacks tartness
Salt and pepper to taste
Tarter Sauce
1/2 cup mayonnaise or sour cream
2 1/2 tablespoons chopped fresh dill
2 tablespoons drained capers
2 tablespoons chopped fresh chives
2 tablespoons finely chopped cornichons or dill pickles
1-2 teaspoons lemon juice
Pinch of salt and pepper
Creamy White Bean Dip
1 garlic clove
1 (19-ounce) can of white beans such as cannellini, drained and rinsed
3/4 cup silken tofu (6 1/2 ounces), drained and gently rinsed
2 1/2 tablespoons fresh lemon juice
1 tablespoon extra-virgin olive oil
1/4 teaspoon ground cumin
Pinch of cayenne
White Bean and Spinach Dip
1 cup white beans
¼ cup spinach
1 tablespoon lemon juice
3 tablespoons water
salt and pepper to taste
Hummus
1 15oz can garbanzo beans or chickpeas about 2 cups
1 garlic clove
2 tablespoons lemon juice
3 tablespoons Tahini1/4 cup olive oil
1/4 teaspoon ground cumin
1/4 teaspoon salt
1/4 teaspoon pepper
Sweet Pea Dip
1 cup thawed frozen peas
¼ cup olive oil
3 green onions chopped small
1 tablespoon lemon juice
5-8 dashes hot sauce (like Tobasco) more if you like things spicier
1 teaspoon dried dill
½ teaspoon garlic powder
1/8 teaspoon salt
1/8 teaspoon pepper
Ginger Carrot Dip
1/2 cup mayonnaise
1 1/2 tablespoons seasoned rice vinegar
1 tablespoon soy sauce
1/4 teaspoon Asian sesame oil
4-5 medium carrots, coarsely chopped
1/4 cup chopped peeled ginger
Creamy Avocado Dip
1 ripe avocado
½ teaspoon lime juice
Salt and pepper to taste
Marshmallow Cream Cheese Fruit Dip
Sweet Nut Butter Dip
½ peanut or almond butter
1-tablespoon honey
¼ teaspoon cinnamon
Chocolate Avocado Dip
2 ripe avocados, pitted and peeled
1/4 cup unsweetened baking cocoa (high quality)
1 teaspoon vanilla extract
1/4 teaspoon almond extract
1/4 cup pure maple syrup
1 tablespoon water
Ready-made dipping ease
Don't have time to whip up something homemade? Try one of these great store-bought options to get started dipping.
Peanut butter
Hummus
Marinara sauce
Yogurt
Cheese Sauce
Salsa
Nutella
Honey
Looking for more ways to get kids to eat better? Try this idea: kids love making Veggie Kebabs or Swords to put in their dips.