It is full swing summer entertaining time. The thing I love most about easy summer entertaining is that is it so casual. A nice evening on the deck with a few snacks, drinks and friends makes a perfect evening of fun and conversation.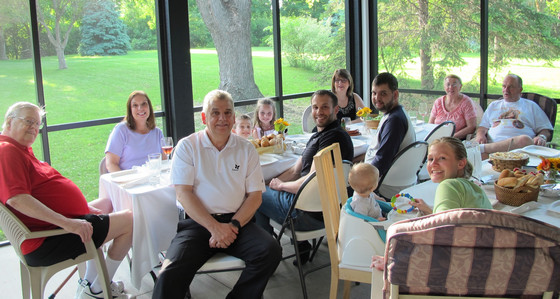 (family dinner for 4 turned to 15 in just a few hours)
This week my mother and father in law came to visit, as well as my cousin from France was visiting with her family, and a few more friends from Philadelphia were in town. With so many people, schedules and things to do I just put out an open invitation to call before you come but stop by anytime. You may wonder how I handle the potential of having a group of 4-10 extra people just stop by anytime and not stress out about it. The key is to have a well-stocked pantry and a few pre-made batch items ready to go. Whenever I have houseguests, I plan a few meals but also have on hand 2-3 premade bulk items that can serves as salads, side dishes and quick meals at anytime. Try out this healthy favorite using quinoa for your next gathering.
Sweet Quinoa Salad with Creamy Balsamic Dressing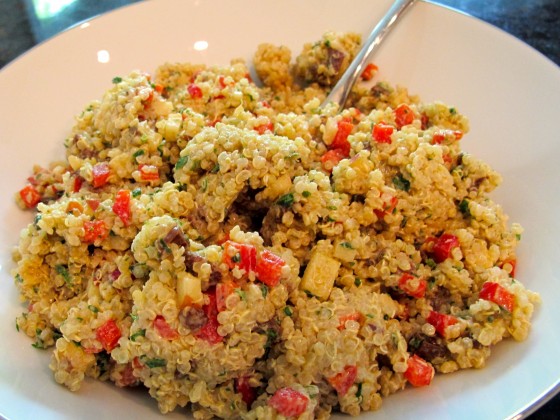 1 cup quinoa, cooked to package directions
1 medium red pepper small diced, about 1 cup
1 medium sweet red apple, (anything but Washington would be fine) small diced, about 1 cup
½ cup raisins
1 bunch Italian parsley finely chopped
1 head romaine lettuce, cleaned and chopped, optional
Dressing:
2 tablespoons apple cider or white wine vinegar
1 tablespoon balsamic vinegar
6 tablespoons plain yogurt
1 teaspoon honey, optional
salt and pepper to taste
(note, if you don't have yogurt on hand or want a dairy-free version use sour cream or olive oil in place of the yogurt.)
Mix all dressing items together in a large bowl. Add the warm cooked quinoa and mix until coated. Add the diced red pepper, apple, raisins and parsley. Mix well, cover and refrigerate.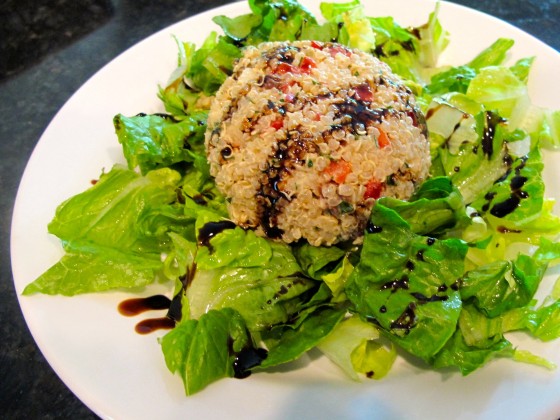 Sweet Quinoa Salad with Creamy Balsamic Dressing over Romaine
Serve as is or spoon over fresh romaine lettuce and drizzle with extra dressing or balsamic vinegar.
Want more like this? Try one of these other favorites.
Peanut Pasta Salad
Thai Peanut Pasta Salad
Penne Pasta Toss
Looking for more summer entertaining resources? Check out the Summer Entertaining Series here.