Entertaining should not be hard. Learn how to entertain with confidence so you and your guests enjoy a perfect party.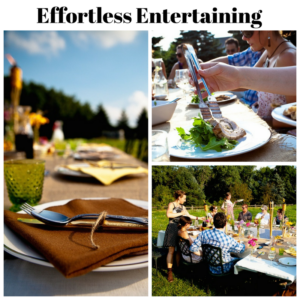 The Effortless Entertainer Series focuses on preparing in advance so you can easily entertain at any time and still enjoy your party. These techniques focus on making the biggest impact with the least amount of work, saving you time, money and energy. You will learn party planning secrets that take away the stress and overwhelming feeling that often comes with hosting gatherings. You'll be the perfect host, even when things don't go as planned.
The Effortless Entertainer Classes include:
Effective Party Planning
Expert secrets to host perfect parties every time
Discover techniques for how to create the experience you want, manage guests and create menus that let you enjoy the party as well.
Feel comfortable and organized when entertaining
Know what time of day is best for your desired results
Manage expectations by creating clear invitations
Understand how to create a menu that serve you and your guests' needs
Learn how to plan a successful timeline, to eliminate stress and not miss a thing (after all, you should take part in your own gathering!)
Impressive Environments
Wow your guests and stay within budget
Discover techniques to maximize your space, repurpose items for simple décor and utilize efficient set up practices that make clean up simple. Your guests will think you spent hours on Pinterest preparing for the party!
Learn the 3 elements that change the feel of a room and how to use them to your advantage
Easily create beautiful, inexpensive décor
Know how to make guests always feel welcome in your home
Understand how to set up a party to keep guests engaged and having fun
Plan B
What to do when things go "wrong" and how to keep your cool
Even professionally planned parties can sometimes be thrown off course. You can't control everything, but you can minimize the effects if you are ready with a Plan B.
Know how to spot potential issues in advance before they become disasters
Discover techniques to fix problems quickly with the least amount of damage
Manage stress of unexpected issues gracefully
Learn techniques to handle recipes fails, unexpected guests and other mishaps