For years I did not make Eggplant Parmesan because it took way too long to cut, bread, and individually fry each piece of eggplant. I would stand for what seemed to be hours with my grandmother to make this dish. Yes, it was delicious, but it never seemed to be worth the amount of effort we put in it for what is essentially glorified vegetarian lasagna. It was only when I discovered I could broil the breaded slices of eggplant instead of individually frying them. That made this dish quicker to assemble. This gives you the same great flavor with half the fat and in half of the time. This new way made me thrilled to make this dish again.
I decided to take this dish to another level. Adding elegance to traditional Eggplant Parmesan is easy when you make them in individual servings. Instead of overlaying everything in a pan, I created individual stacks using three crusted pieces of eggplant and layering it with cheese and sauce. Remember the quality of your ingredients come through in the end flavors.
Here is how to create this restaurant quality dish at home.
Eggplant Parmesan Napoleons
Serves 4
1 medium eggplant
¾ cup breadcrumbs
¾ cup grated Parmesan
1 egg
1/3 cup milk
¾ cup all-purpose flour
1 teaspoon garlic powder
¼ teaspoon salt
Spray or drizzle with olive oil
1 cup Mozzarella cheese
1 1/4 cup good quality marinara sauce
Slice the eggplant into ¼ inch slices keeping the skin on. You will need three shallow bowls to set up a breading station. Combine the Parmesan cheese and breadcrumbs in a shallow bowl. In another shallow bowl whisk together the egg and the milk. In the last shallow bowl combine the flour, garlic powder, and salt.
Taking one slice of eggplant at a time, dip it fully in the flour tapping the eggplant to get rid of the excess, then dip it in the milk and egg mixture, and lastly in the breadcrumb mixture being sure to coat each slice completely. Place the covered eggplant slice on a baking sheet. Repeat this process until the baking sheet is full in a single layer.
Spray or lightly drizzle the slices with olive oil. Place the pan under the broiler for 1-3 minutes but watch carefully so they don't burn. Just when they start to brown on the top flip them over, spraying or drizzling again with olive oil, and brown them on the other side for another 1-3 minutes. Remove and place toasted eggplant slices on a rack to cool.
Repeat this process until all eggplant slices have been breaded and toasted, at which time you are ready to assemble the stacks. Put a thin layer of red sauce on the bottom of a 9×13-baking pan about ¼ cup. Working with the larger slices first, place the four largest slices on the bottom of a baking dish. Top each slice with a tablespoon of marinara sauce and a tablespoon of mozzarella cheese. Top the cheese with a medium size slice and repeat the layering process, saving the smallest slices for the top layer.
You will have 3-4 layers for each stack depending on how big your final eggplant is. Finish by topping them with mozzarella cheese. Bake at 350 degrees for 25 minutes until hot and cheese is slightly bubbly.
This is a stunning entrée for a garnish. Try drizzling the plate with a good-quality balsamic vinegar or olive oil. Even a little green garnish such as thyme, basil or oregano would look great here as well.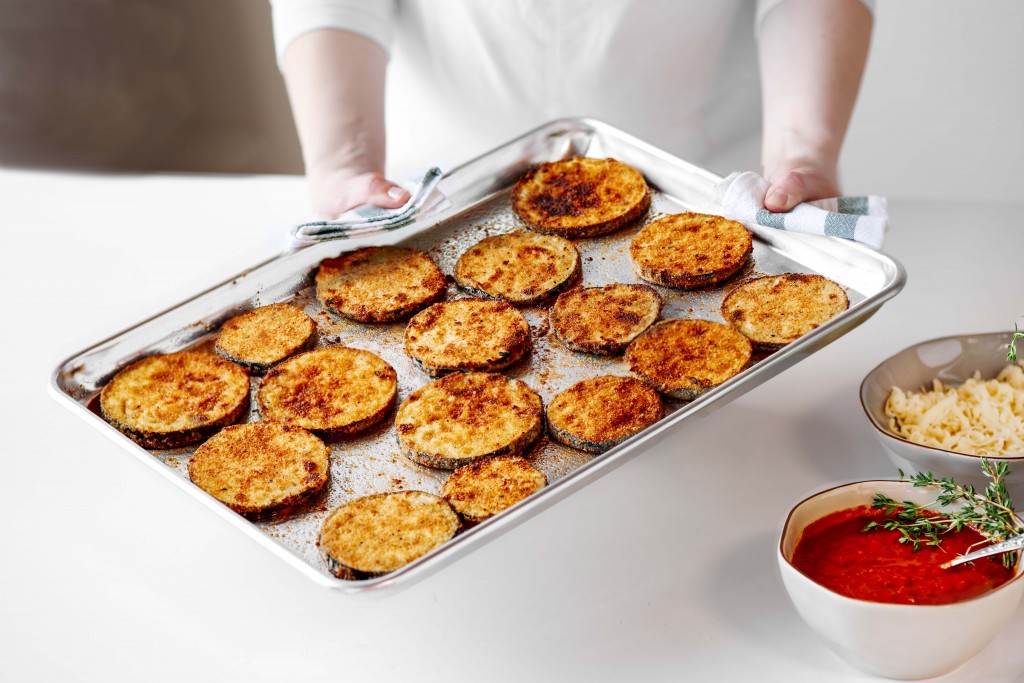 Broiling the slices makes them crispy quicker than frying them in a pan.
See more on this recipe and how to choose the best olive oil for your cooking here.