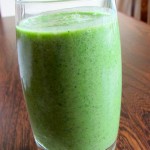 How to make a delicious green smoothie in 4 steps:
Choose your Liquid 1-1 ½ cups
Pick your Greens about 1-2 cups
Pick 2-3 Flavor Additions about 1-1 ½ cups total
Blend thoroughly till smooth and adjust with optional items if necessary.
Liquid
Water
Milk
Soy/Nut Milks
Yogurt
Fruit Juice
Greens
Spinach
Romaine
Kale*
Swiss Chard*
Bibb Lettuce
Flavor Additions
Grapes
Pineapple
Banana
Melon
Berries
Cucumber
Kiwi
Peaches
Mango
Pears
Optional Items: Vanilla/Almond Extract, Honey, Protein Power, Flax Seed
*Note Kale and Swiss Chard have woody spines that can be bitter; remove these before blending if desired.
To get you off to a good start, try this recipe that I love and make all the time. I enjoy the creaminess of the banana and the acid of the pineapple to offset the greens. The vanilla protein powder gives a little addition in sweetness that I like and protein to keep me full and get my day off to a good start.
Rachel's Rocking Green Smoothie
Makes 2 servings
½ cup milk
½ cup water
1 cup packed spinach or kale
1 cup pineapple (fresh or frozen)
½ cup banana (fresh or frozen)
2 tablespoons vanilla protein powder
*Kale can have bitter taste. If you are new to green smoothies try starting with a mild green like spinach or romaine
Tips:
*I like to keep my frozen fruit at hand so I can easily make smoothies without having to keep so much fresh produce all the time. This also chills the smoothie without adding ice. If using all fresh fruits you may want to add a few ice cubes to chill it down. To learn how to store bananas best check out #8 on 20 creative ways plastic bags make life easier.
*Berries tend to turn a green smoothie into a dark brownish color, be aware of this as the color of foods changes our appetite and approach to them. Remember, color is one of the elements of The Pretty Plate.