Earlier this week I was sitting in a waiting room and just happened up pick up a magazine on diabetic cooking. I am always interested to see what other inspiring ideas and recipes are out there especially when it comes to health. I figured they had to have something good in there. I have to be honest I was surprised and sadden by what I found, recipes calling for processed ingredients, highlighting all low fat alternatives and using store bought ingredients that contain high amounts of sugar. I did a double take at what I was looking at thinking this could not actually be written in an article supposed to be supporting people in making healthy choices, but it was. It was also not just one recipe but almost every single one. I was shocked, how could a "health" magazine promote such things? Although, I am sure these are healthier alternatives than some food options and yes better than take out burgers and fried chicken but in my mind these were recipes to keep you struggling to manage diabetes for an eternity.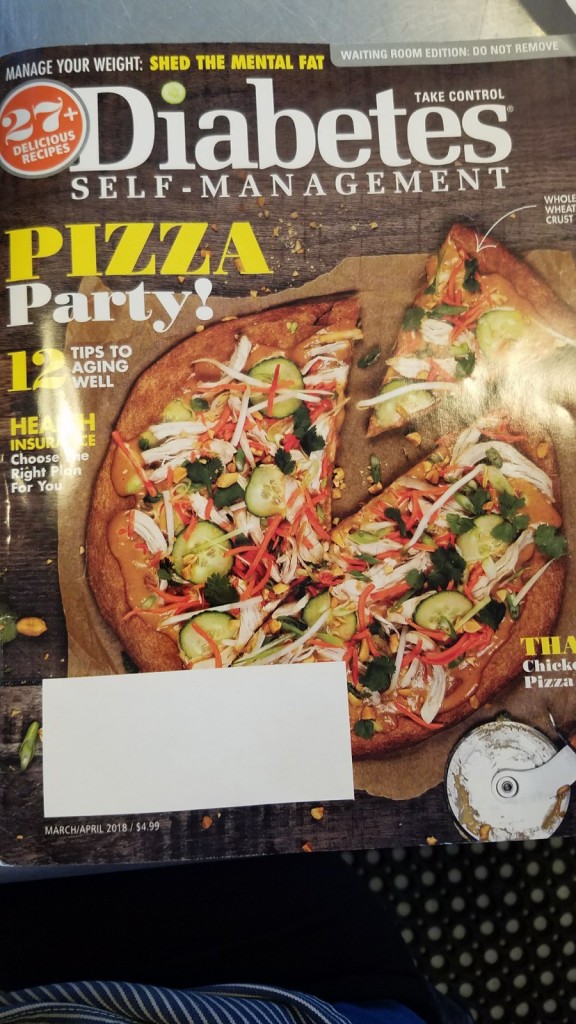 So my question to you is who to do you trust? Who do you turn to for quality health information? I ask this as the more and more I look into I keep finding alarming suggestions of what is commonly considered healthy. I experience it first hand too, like my pediatrician recommending Nuttella and Cheerios as healthy options for my one year old. We only saw that doctor once. I am continually amazed at what I am finding and what is being labeled as "healthy"
Did you know that doctors are not required to take any nutrition courses? Nutrition courses are considered an optional elective. Yet we routinely look to and listen to our doctors for medical and nutritional advice to help us stay healthy. Now, I am not saying don't listen to your doctor but maybe look at other alternatives, do your own research and don't trust everything or the first thing you hear.
In response to the "Chocolate Cream Dessert Dip" featured in this article I wanted to give you another option. This recipe listed features fat and sugar free instant pudding mix and fat free whipped topping. Just for an F.Y.I. here are just some of the extra ingredients you are consuming in this "healthy recipe"
Pudding mix Ingredients: 
Modified Cornstarch, Maltodextrin, Tetrasodium Pyrophosphate and Disodium Phosphate (for Thickening), contains less than 2% of Natural and Artificial Flavor, Salt, Calcium Sulfate, Xanthan Gum, Mono- and Diglycerides (Prevents Foaming), Aspartame and Acesulfame Potassium (Sweeteners), Tetrapotassium Pyrophosphate, Dipotassium Phosphate; Yellow 5, Yellow 6, Artificial Color, BHA (Preservative).Phenylketonurics: contains phenylalanine.
Whipped topping Ingredients
INGREDIENTS: WATER, CORN SYRUP*, HYDROGENATED VEGETABLE OIL (COCONUT AND PALM KERNEL OILS), CONTAINS LESS THAN 2% OF SODIUM CASEINATE (FROM MILK), NATURAL AND ARTIFICIAL FLAVOR, MODIFIED FOOD STARCH, XANTHAN AND GUAR GUMS, POLYSORBATE 60, SORBITAN MONOSTEARATE, SODIUM POLYPHOSPHATE, ACESULFAME POTASSIUM AND ASPARTAME** (SWEETENERS), BETA CAROTENE (COLOR). *ADDS A TRIVIAL AMOUNT OF SUGAR. **PHENYLKETONURICS: CONTAINS PHENYLALANINE.
*I am not sure how they can say it is "sugar free" when the second ingredient is corn syrup but hey they did.
Oh and the serving size of this recipe is just 2 tablespoons.
Here is my healthier alternative for you featuring just 4 whole food ingredients. You be the judge? I would love to know what one you think tastes better, is more satisfying and actually healthy for you.
Did you know that our brains are composed of 60 percent fat. We need fat for our brains to grow and fully function. Fat free diets are starving your brain of an essential nutrient you need to function well and think clearly. Fat give us energy, protects our joints and is essential for absorption of vitamins A, D, E and K. A side note from my experience after shifting my diet, I have never eaten more fat and never felt better, slept better and been thinner.
This recipe features avocados that are loaded with healthy monounsaturated fats. Avocados promote healthy blood flow, provide fuel for the brain, may help lower cholesterol levels and may help prevent blood clotting. They contain vitamin k, folate, vitamin C, B, E and more potassium than a banana. An avocado contains about 160 calories, 2 grams of protein, and 15 grams of healthy fats. Although it contains 9 grams of carbs, 7 of those are fiber so there are only 2 "net" carbs, making this an actual low-carb friendly plant food. Avocados do not contain any cholesterol or sodium.
If that is not enough I also love this recipe in particular because it is perfect for overripe avocados, You know that one you bought weeks ago and forgot about and now it is a little mushy or brown. Don't toss it out, avocados can be expensive make it into this delicious rich and satisfying guilt free treat.
Get the recipe for Chocolate Avocado Mousse 
No I am not a doctor or consider myself a nutritional expert however, I have taken several nutrition courses continually look for the latest research and value whole non-processed foods as the base of a healthy diet. I care deeply about the quality of life I create for myself, my family and my clients, most of that is related to quality food. Give this recipe a try and think again next time someone offers you "health" advice they may not always have your best interests in mind.
Extra references for your information:
https://www.psychologytoday.com/blog/the-optimalist/201310/your-healthy-diet-could-be-quietly-killing-your-brain
https://www.ncbi.nlm.nih.gov/pubmed/20329590
https://www.healthline.com/nutrition/12-proven-benefits-of-avocado#section4
https://www.californiaavocado.com/nutrition/nutrients