Healthy does not have to be bland or boring. In fact, we strongly believe that it shouldn't be.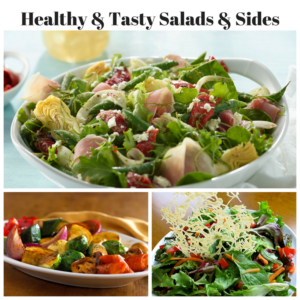 The Salads and Sides Series focuses on using quality ingredients to pack in unique flavors without all the processed junk in bottled dressings and pre-packaged meals. You'll learn how to easily make your own homemade salads and dressings that will taste better than anything you get at the store. By the end of this series, you'll always have the ingredients on hand for a healthy meal.
The Salads and Sides Classes include:
Vinaigrettes and More
Homemade dressing, marinades and sauces made easy
Learn how to make homemade vinaigrettes and stop buying bottled dressings and marinades that are full of preservatives and unnatural ingredients. You'll eat healthier and save money, too!
Learn the basic vinaigrette ratio so you can make a variety of flavors at home anytime
Save money and eat healthier
Learn the secret way to make a dressing and clean out extra ingredients from the refrigerator at the same time
Re-purpose vinaigrettes to add flavor to multiple parts of your meals (not just your salads)
Exciting Salads
You'll make something delicious even if you're not a "salad person"
Save money and eat healthier by discovering techniques to have delicious, interesting salads on hand.
Learn 5 different types of salads
Discover the 4 key components to building unique salads
Know what types of salad work best with a busy lifestyle
Learn how salads can make mealtime easier and healthier
Make salads that are satisfying and won't leave you hungry for more
Creamy Dressings and Dipping Sauces
Flavor without all the junk
Discover how to make homemade flavorful classic dips and dressings like ranch, blue cheese or new favorites like creamy southwest – without the extra preservatives and calories.
Learn how to make a variety of yummy, cream-based salad dressings
Know easy substitutions to create lower calorie versions with full flavor
Discover how to adapt dressings into dipping sauces to add interest to meals and party favorites
Save money and eat better using higher quality ingredients