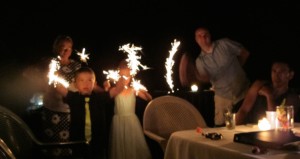 After all the planning, the food is eaten and guests say their good byes. At this point, all that is left are the memories. Those moments that you will never forget, the stories that you will share time and time again those moments are the memories that make our lives richer and keep the festivities living on.
So how do you create the best memories? How do you get people to talk well about the parties you host? It's simple to make them feel welcome, special and have something unique.
Do your best to plan ahead. Create a party friendly menu or hire help so that you can have time to greet guests, make a few introductions and thank them for attending. As a host you will most likely know most of the guests attending so it is easy to be pulled in many directions. Make a point to have the focus on just your guests at the beginning and end of the event. All the food and beverages should be set just before they arrive so that you can welcome guests and then slip away for simple refills throughout the party.
Choose one thing to create a "wow factor". Think about your guests and the experience you want to create for them. As they leave your event, what is it that you want them to say of their experience? What is it you want to be remembered for? What are those best memories you want to leave them with? Whatever that is, create a "wow factor" around it. Not everything has to be over-the-top and perfect. To be honest, some of the best memories usually come from things that go wrong.
Pick one thing to completely excel at. No one will remember if they drank out of plastic cups or normal glassware, but they will remember if you had custom crystal glasses. They may not remember the food but they will remember the perfect popovers or a unique sushi-making party. Simple candles are great decorations, but you could make a grand impression with beautiful, fresh flowers and stunning centerpieces. Or send them home with unique personal favors.
Pick one thing and do it very well, normal is normal, so think outside the box and do something uniquely you. It will long be remembered.
I truly hope you enjoyed the Summer Entertaining series with all the tips and entertaining secrets to get your next summer bash off to the great start. May every party you host, simple, grand and everything in between, be one that adds love, laughter and lasting memories to your life.
Summer Entertaining Series
The things you need to know to ensure summer fun for all:
#1 Food: easy, delicious and safe, read this before dishing up
#2 Relaxing Refreshments, don't break a sweat keeping hydrated
#3 Easy Breezy, decorate with casual summer style for less
#4 Keep Your Cool, comfort is everything
#5 Party in an Instant, have these on hand to welcome guests at any time
One last tip: Keep a camera close by and use it often, ask a friend, or hire a photographer to capture the moments. Smiling faces make it easy to remember why we get together. I never regret taking too many photos and capturing the best memories of a lifetime.
Leave a comment! What's your favorite party memory?
Pick up your copy of The Pretty Plate for more simple techniques and recipes, and learn about the five elements to make your everyday meals magnificent.