As I mentioned last week, I know it is the second week of October, but now is the time to start thinking about your holiday plans. Whether you are hosting, visiting or bringing a dish to share, now is the time to start getting organized so that everything goes off without a hitch and holiday stress never even enters the picture. Here is part two of the Thanksgiving Guide: How to Plan the Perfect Meal. Check out last week's article on Who's coming to dinner, to see how party invitations can make the meal easy and fun for all. This week we are getting into the food and planning the Thanksgiving dinner menu.
Step Two: Planning The Thanksgiving Menu (Dinner)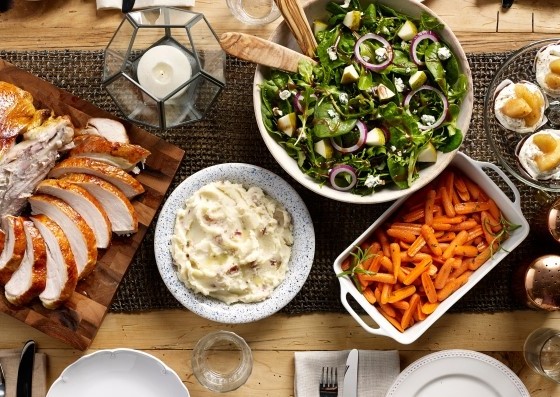 (For easy stress-free Thanksgiving dinner, choose items that can be made in advance)
Now planning the meal to fit everyone's tastes is the next dilemma. Over the years I have found, at least with my family, that Thanksgiving above all other holidays and yearly celebrations is the meal that has the most traditional and expected foods. They may like the new ginger carrot soup or a unique twist on stuffing, but for the most part my family likes the same traditional mashed potatoes and gravy foods.
This year I was inviting a few friends to join us. I always love learning about new foods and traditions, so on the response card I sent I included a few suggestions for people to choose their top three favorite sides and types of pie. This gave me a chance to see what people wanted, if there were any diet restrictions I was unaware of, and plan a menu to appeal to the most tastes. This also came from my refusal to serve 8 different types of sides as I didn't want all those leftovers, there is only so much space to cook in the kitchen, and I am an advocate of a balanced meal.
Having guests choose their top three favorites allows me to pick the most common items that appealed to the group. In previous Thanksgivings my mom would make it all mashed potatoes, stuffing, sweet potatoes, corn bread, butter rolls, and candied yams. That's 6 sides that are all starches. I refused to the sugar carb overload and limited it to 3 starch options for my final meal. The winners were mashed potatoes, candied yams and traditional stuffing. At dinner, when someone asked about the corn bread, I simply said, "It didn't make the cut. These were the top choices. You will have to vote for it next year". Now that I had an idea of what people wanted, I got to work planning the Thanksgiving menu.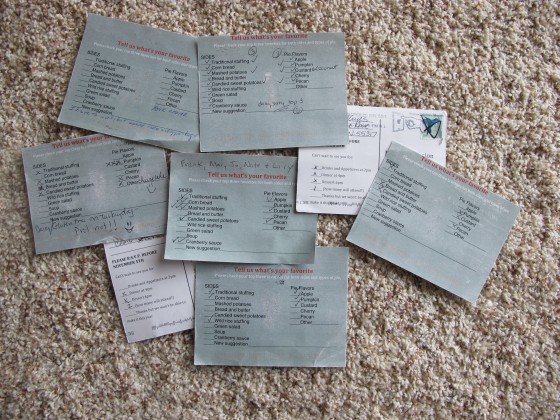 (Thanksgiving Response cards with meal choices)
With any dinner party, a carefully planned menu is the key to a relaxing evening or the one with last-minute stress. However, I have found that many people skip this step altogether just pulling together things that sound good or look good as an afterthought. Don't do this. I know it takes a few moments to "plan" a menu but the few moments of planning will save you from several stressed moments in the future if done right.
The key to a stress-free dinner party is to plan a meal where the majority of the items can be prepared in advance. The larger the party, the more advance prep is needed. As a general rule, if my menu requires more than 2 things to be cooked or finished up last minute, it needs to be revised. The reason for this is that I am only one person feeding 20 plus. I can only do so much. Unless you have knowledgeable helpers that will actually help when needed, doing more than 2 things while getting all the rest of the food on the table is just too much for one person. The time spent in the kitchen starts to outweigh the time spent with guests and it's not worth it. Remember, it is about the food indeed, but the whole reason you have people over is to spend time with them – not work in the kitchen.
Letting my guests help with my "check what you want" response cards made menu planning pretty simple. I took the top choices from selections and then rounded out with what I wanted and what worked for me. Guests chose mashed potatoes, candied yams and traditional stuffing and desserts: apple pie, pumpkin pie and pecan pie. This is how I rounded it out making accommodations for my two gluten-free guests as well.
Other strategies like hosting a Thanksgiving pot luck and having guests bring parts of the meal work well too as long as you are clear about who is bringing what and as long as guests show up on time with the dish, making for less prep work for the host and still creating a homemade meal.
My Thanksgiving Dinner Menu
Grilled and Sous Vide* Turkey with Gravy
Mashed Potatoes and butter
Candied yams
Traditional stuffing
Pomegranate kale salad with spiced pecans
Brown butter sage roasted carrots
Grand Marnier Cranberry sauce
Note that no one actually requested any type of vegetable. They all chose starches, I wanted to serve a balanced meal so I put in the somewhat safe roasted carrots and the stretchy one to test new tastes and pallets. I was interested to see how the kale salad would go over. I chose kale mainly because it is very healthy, it's pretty, and since it is a more fibrous green, it can be tossed together in advance. It actually gets better and softer with a little time,fitting into my prep in advance meal plan. To my surprise half of the guests did eat and enjoy the kale salad.
The Grand Marnier Cranberry sauce didn't make the cut either, but my mother insisted on having it. So I said she was welcome to make it and bring it ready to serve for dinner if she wanted.
Stay in touch! Next week we dive further into the menu with the Thanksgiving Guide: How to Plan the Perfect Meal appetizers section.
* Sous vide is a technique to prepare food to the perfect doneness while retaining the foods' nutrients and juices. The technique uses immersion circulation that works by moving water at a constant temperature in a pot. To cook sous vide, you first seal your food in a plastic bag using a vacuum sealer; then, submerge the bag into the heated water bath for a period of time. Because this does not get the skin crispy, we finished the turkey breast by deep fat flash frying it. The great thing about sous vide cooking is that because it is in a water bath of a particular temperature the item can never get overcooked, keeping it tender and juicy for hours if needed. This was also a recent birthday present I was excited to try out. To be honest, it worked wonderfully and I am sure it will come out future festivities.