The school year has started, we are all off to new routines for class, work and extra activities. Now is the time to get your healthy snacks in order. This is one of my favorite recipes for on the go healthy options. This recipe is super simple as you just put all the ingredients in a food processor, blend and bake. You have 10 bars ready to go perfect for breakfast on the run, a lunch bag, snacks or simply toss in your purse. They are packed with fiber, protein and a touch of sweetness. You won't feel bad giving these to your kids with these high quality ingredients and also gluten and dairy free.
I am using the new Lindsay Creamy Almond Butter  in this recipe. This product is smooth and creamy making it perfect for all your nut butter needs like sandwiches, dipping and baking. It has no hydrogenated oils, cane sugar, preservatives or gluten. Try it in place of traditional peanut butter for a twist on some of your favorites. A 12 oz. jar retails for just $8.99 but you can learn more and get coupons here.
Try out any of the new Lindsay Almond butter flavors like Classic Creamy, Classic Chunky or for a sweet treat Honey Cinnamon. All of the varieties work well in the soft Cinnamon Raisin Granola Bar recipe listed below.
Soft Cinnamon Raisin Granola Bars
Makes 10 bars
3 cups old fashioned oats regular or gluten free
1 cup raisins
½ cup pecans
½ cup almond butter (at room temperature)
½ cup unsweetened applesauce
½ cup pure honey or maple syrup
¼ cup water
¼ cup ground flaxseed meal
1 tablespoon ground cinnamon
1 teaspoon coarse or kosher salt
Heat oven to 350 degrees. Line a 9×9 inch pan with parchment paper or grease with oil.
Combine all ingredients in the bowl of a large food processor, pulse for 20 seconds and scrape sides, pulse for another 20 seconds to chop pecans and throughly combine ingredients. Do not over mix or it will become pasty.
Scoop mixture into prepared pan. Using a slightly wet hand press mixture evenly into the pan. Bake on the middle rack until golden brown and firm about 25-30 minutes. Allow to cool completely, remove from pan and cut. Make 10 bars by cutting horizontally through the middle once and four even cuts vertically.
*If you do not have a food processor, coarsely chop the raisins and pecans. Then in a large bowl combine all ingredients until well mixed and bake as directed.
*Raisins not your thing? Try this with other dried fruit like cherries, cranberries, blueberries or dates. Look for unsweetened varieties to help limit excess sugar.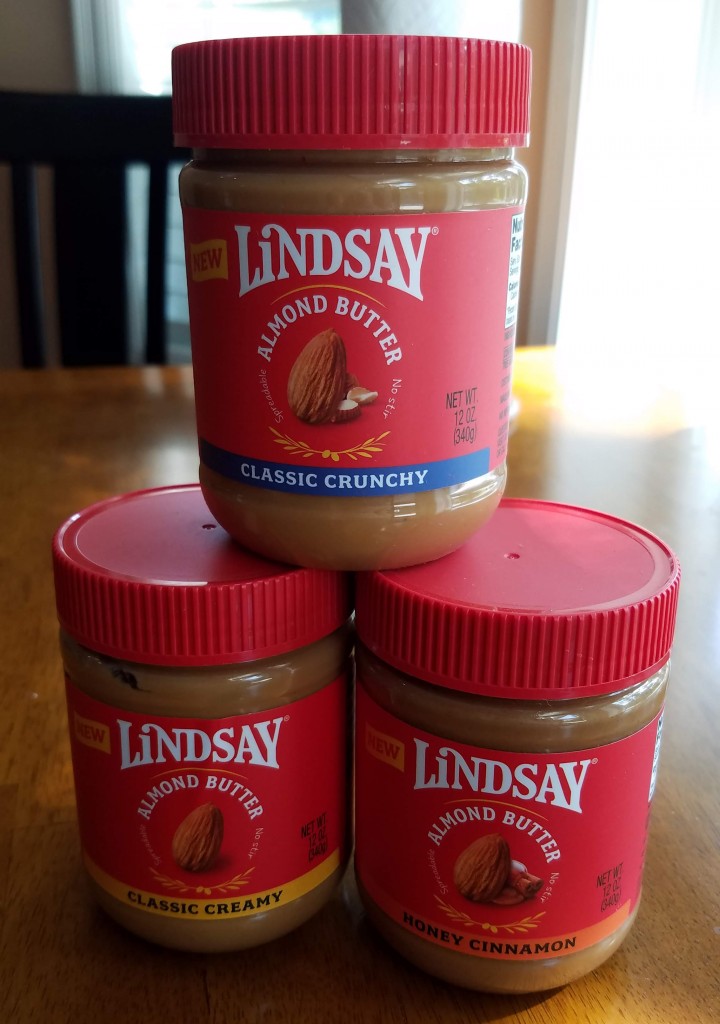 If you like the creamy almond butter you may also want to try Classic Crunchy and Honey  Cinnamon
Full Disclosure:
Sometimes I receive sample products to test and share my honest opinions about. I will ONLY promote products that I love and currently use myself. I feature these products as they have made my life simpler or more enjoyable in some way. I share them with you only as a resource to better support you in enjoying a simply delicious happy and healthy life.  All reviews are my own words and my own opinions. I share them and hope these products and services work for you and bring as much joy to your life as they have to mine.
I will occasionally link to specific sites or include affiliate links to help you purchase similar or recommend products. Again, I will only feature items I currently use and think will truly benefit you and your family. As always it is my true effort to serve you please contact me if you have questions about this process, products I mention or would like me to consider your product for a feature highlight. I am happy to help.