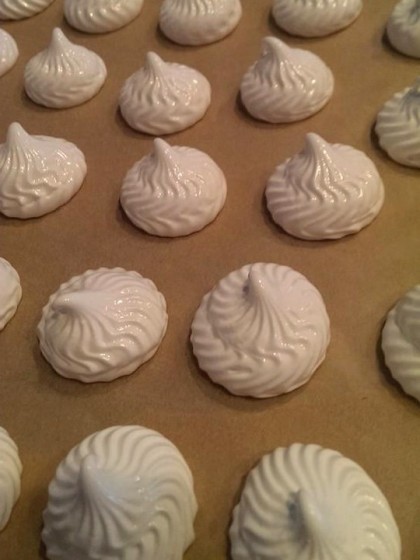 If you decided to make some Homemade Eggnog, you must be wondering what to do with all the extra egg whites? It's easy to mix up a batch or scramble egg whites, a frittata or an egg white quiche, but this time of year with the dry air it is perfect to make meringue. You can shape meringue into cookies, cups, or really any desired shape. It is difficult to make meringue in the summer as the warm humid air makes it hard for them to completely dry out. You will want to bake these meringues in a low slow oven to get them dry and crisp. Once they are dried out meringue can be stored in an airtight container for up to a year. Enjoy cookies as they are, dip in chocolate, fill cups with fresh fruit or crumble meringue over ice cream for fun texture. These simple treats can be enjoyed all year, but the cool winter months is the best time to be baking meringue.
Vanilla Almond Meringue Cookies
8 egg whites
4 ½ cups powder sugar
1-teaspoon real vanilla extract
½ teaspoon almond extract
Pre-heat the oven to 200 degrees F, line a baking sheet with parchment paper.
With an electric mixer, whip egg whites until foamy. Add sugar one cup at a time, whipping at medium speed gradually working up to high speed after all sugar is incorporated. When the mixture becomes stiff and shiny like satin, stop mixing, and transfer the mixture to a large pastry bag or zip top bag.. Pipe the meringue out onto the prepared baking sheet using a large round tip or a star tip.
Place the meringues in the oven, bake for 2.5-4 hours, until meringues can easily be removed from the pan and are completely dry. Allow cookies to cool completely before storing in an airtight container at room temperature.