Freezing meals is a huge time and money saver for those busy days. Dinner made easy with freezer meals sounds like an easy concept but there are a few secrets to making them easily accessible and tasty. No one wants to wait for something to thaw for hours when you are in a rush only to find bland flavors and soggy textures. This fall with baby on the way I am making sure to have a wide assortment of delicious meals ready to go. You can do this too making those busy school nights easier and not worrying about "what's for dinner" after a long day. Follow these techniques below for dinner made easy with freezer meals.
Your family size and the type of food will help determine the best way to portion and store items. You want to package things in correct portion sizes for your desired meal. If you are unsure individual portions or portions for two are easiest to thaw quickly and use as many as you need for a particular meal. Remember the smaller the item is the faster it will defrost.
The key to keeping foods fresh and tasting great while frozen is keeping out as much air as possible. If air can move around the food this is what causes food to change flavor, dry out and cause freezer burn destroying the taste and texture.
Essential Dinner Made Easy with Freezer Meals 101:
Pack items in small quantities for quick defrosting times;
Take meat out of the containers and wrap it individually;
Avoid freezer burn by packing airtight, wrap in plastic then foil or use a vacuum sealer;
Clearly label, date and include cooking instructions on packages for easy use.
Freezer Meals Extra Secrets:
Freeze extra broth and sauces in ice cube trays so you can use just what you need.
Freeze extra coffee, juices or pureed fruits and vegetables to add to smoothies.
Remove the skin and cut bananas in chunks allow to freeze individually on a parchment lined sheet pan. This way they are easier to defrost faster, measure out for baking, quick additions to smoothies and easy snacks.
Make large batches of soup and freeze individual 1-2 servings in plastic freezer bags — lay each flat on a sheet pan so they freeze in sheets, they take up less space and defrost quickly this way.
Use foil pans to cut down on dishes.
Save your summer herbs by pureeing them with olive oil and freezing in ice cube trays.
Keep extra pancakes waffles by allowing to cool then freezing in a single layer. Transfer to freezer bags for up to three months. Reheat in a toaster or in a 350-degree oven on a baking sheet covered with foil for a hot breakfast without the effort and mess.
A few of my family favorites for Dinner Made Easy with Freezer Meals
Try this family-loved favorite 4 Cheese Italian Stuffed Shells.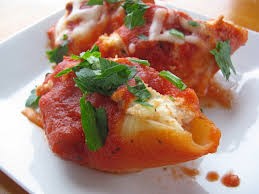 My family loves stuffed shells. They are perfect for children and adults. We make them by the mega batch getting everyone together for a shell-making party making the work easy and fun. Yes, my sister in-law is drinking wine from a straw in this photo, you see your hands can get a little messy while stuffing.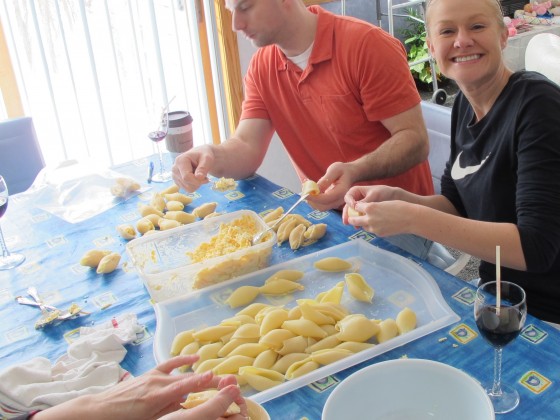 (My husband and sister-in-law stuffing shells)
We package the stuffed shells in freezer bags so we can take out enough for one or enough for a party. After we are done making them we divide up the bags and everyone leaves with several dinner made easy meals.
(500 shells ready for the freezer)
Meatballs are another family favorite dinner made easy freezer meal. I also use the same recipe for meatballs and shape it into a meatloaf too. This one recipe can be converted to two completely different meals easily. Serve the meatloaf with mashed potatoes and gravy and meatballs with red sauce and noodles.
Freezer meals can go far beyond just dinner. Don't forget about breakfast on those busy mornings. I always have some frozen bananas on hand for quick additions to smoothies. They are easily portioned out to make and freeze a few loaves of banana bread.
You can freeze the already baked loaves wrapped tightly in plastic then foil for great flavor and easy on the go breakfast and snacks.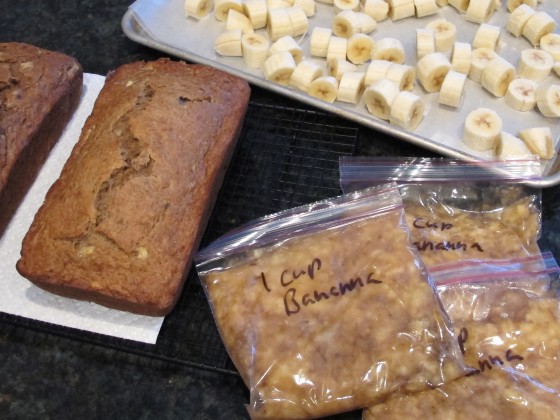 (Banana bread, sliced frozen bananas and mashed banana portioned out for easy baking)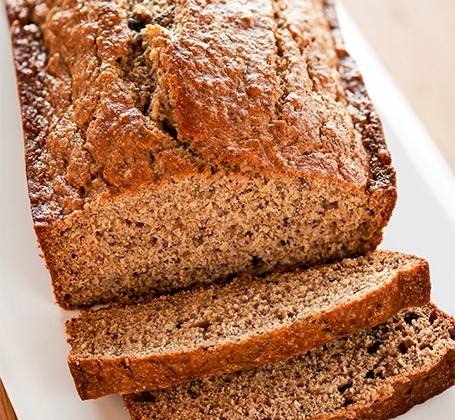 Get the recipe for this easy Banana bread here.