Want to host a perfect party but not sure where to begin?  Don't worry, the Effortless Cocktail Party Series can help.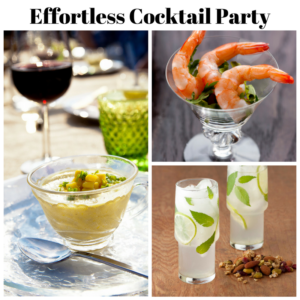 Even if you have no time to plan, the Effortless Cocktail Party Series will give you the self-assurance to host a perfect gathering at a moment's notice. You'll learn how to whip up elegant appetizers with what you have on hand as well as techniques to add your personal style without stress. You will have fun and leave your guests impressed with your skills.
The Effortless Cocktail Party Classes include:
Appetizers in an Instant
Impressive sweet and savory bites
Learn how to make homemade puff pastry and transform this one ingredient into several delicious sweet and savory options.
Learn how to make homemade puff pastry treats
Utilize various design techniques that produce unique appetizers
Discover homemade and pre-made options that add a variety of flavors
Always have food ready for a party
Setting Up a Buffet
Create elegance and ease, avoiding the #1 party pitfall
Learn how to set up an impressive buffet table that works for your budget, guests and theme.
Discover the 3 ways to add interest to a buffet
Avoid commonly overlooked party pitfalls
Learn techniques that save you time, money and energy
Discover how you can always have food that everyone will enjoy
Bar Basics
Classy beverages for all ages and events
Discover what beverage essentials you must have to make sure everyone has something fun to drink – and stop worrying about if you have enough per person!
Know what you need and how to set up a basic bar and DIY beverage stations
Understand how to gauge quantities based on your guests
Learn how to create a signature drink
Learn easy garnish techniques to turn simple drinks into stunning ones