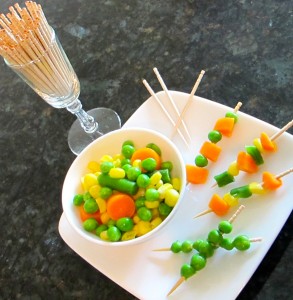 Life is full of things we "need" to do, and with that, consistently getting healthy food on the table does not always happen. Sadly, even when we do get great healthy new foods on the table kids don't always want to eat them. Today I share with you how you how to engage that picky eater by simply changing the way a food is presented.
It is not always easy to introduce new foods to children. However, by using the elements of The Pretty Plate, you can make healthy foods interesting and fun so they want to try them. The best way I have found to get kids to try new foods is to involve them in the process, let them have an opinion, a choice between two things, or let them play with their food. I don't mean toss spaghetti at the walls, but let them have fun by mixing up colors, shapes and textures, and being creative with how a food is presented. Remember we all eat first with our eyes.
One of the things I love is letting the kids make veggie kabobs. I discovered that my niece would not touch a bowl of peas, but as soon as I gave her toothpicks she was able to make a game of it turning the bowl of peas into pea kabobs that were fun to eat. You can even let them dip the kabobs in a sauce for extra flavor and fun. You can try this with a variety of fruits and vegetables; try cutting items into different shapes for more interest. This becomes an activity for kids; now their focus is not especially on the type of foods, but the fun they are having assembling them. By changing how a food is presented, they are having fun and loving trying out new, healthy foods.
For more information on involving kids in the kitchen, check out Cooking With Kids Made Easy.  And pick up your copy of The Pretty Plate for more simple techniques and recipes, and learn about the five elements to make your everyday meals magnificent.