Healthy habits start in the kitchen. We all want our kids to make healthy choices. Part of that is exposing them to a variety of foods and letting them have an opportunity to see you cook, and maybe even taking part in the action.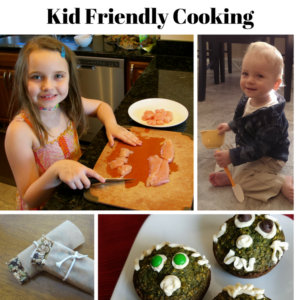 The Kid-Friendly Cooking Series will help you get started with truly simple solutions in getting the family involved in the kitchen. These recipes highlight healthy options using what you have on hand to make toddler and kid friendly foods.
The Kid-Friendly Cooking Classes include:
Healthier Snacks
Simple bites and finger foods
Start your kids on the right path with wholesome snacks, free from refined sugars and artificial coloring.
Learn how to easily make safe, high-quality snacks for growing children
Know how to adapt a recipe to fit a variety of new flavors
Feel good about what you are offering your children
Teach your kids how to eat nutritiously from the start
How to Cook with Kids
Getting children involved in the kitchen
Cooking with kids is one of the best ways to ensure a happy, healthy life.  By learning ways to get them involved with the meal, kids are more likely to try new foods and they will also learn culinary skills that will benefit them for life.
Learn key steps to making cooking with kids fun and easy
Know how to break down a recipe into kid-friendly steps
Learn appropriate activities to safely involve the children at any age
Create a safe, fun learning environment for your kids to learn about food
Build connection and stronger relationships with your children
Bonus Segment: Learn recipes to share with your kids back home – No Bake Bars/ Green Monster Muffins
Grab and Go Granola
Yummy treats everyone can enjoy
Create healthy alternatives to the processed snacks bought at the store. What seems healthy may actually be full of sugar. By making your own treats, you can control what goes into your family's bodies.
Learn how to make homemade granola bars and loose granola in a variety of flavors from one recipe
Have guilt-free snacks on hand
Eat less refined sugar and processed foods
Don't get fooled by marketing lingo: learn how to understand a food label. Confidently know what is a nutrition fact versus unhealthy marketing hype
Save money and eat healthier