(When you know how to use a knife you will never need a "watermelon slicing" gadget. Save money and get the kitchen equipment basics that really help you)
I was shopping this weekend to pick up new cutting boards for the kitchen. I have to admit I laughed out loud when I saw this "watermelon slicer" on the shelf. I could not imagine how this flimsy over-sized apple-slicer-looking contraption would ever safely slice a watermelon, let alone where someone would store this large item. As you know I will only ever feature products that I use myself and I believe will truly help you in the kitchen. In this case I am warning you not to get sucked into one-purpose gadgets like this that disguise themselves as helpful kitchen tools.
Getting meals on the table quickly and consistently starts with having the proper kitchen equipment. If you don't have the right tools and don't know how to use them the task at hand will be that much harder and time-consuming. It is easy to get caught up in the assortment of kitchen "gadgets" that are out there. It seems there is one for every task all claiming to make your life easier. The amount of kitchen equipment needed can be a little excessive if you rely on too many of these. The good news is you can do most everyday kitchen tasks with a few kitchen equipment basics. Here is the Kitchen Equipment Basics Check List to get you set up for confident kitchen success.
If you want to learn more about setting you and your kitchen up for success and get hands-on experience contact me about joining the next Small Group Session starting soon.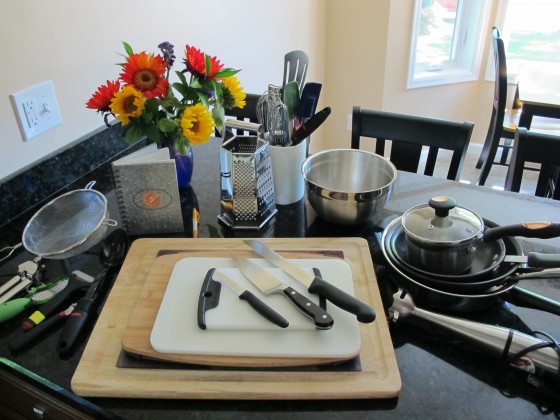 http://blog.newhomesource.com/2014/09/first-home-every-new-homeowner-needs-new-kitchen/
Knives

: The knife is the most important and also most dangerous tool in the kitchen. When you have one that works well for you you can feel comfortable preforming many essential kitchen tasks with ease and without injury. Click here to learn if a forged knife or a stamped knife is best for you.
The 3 knives you need: If you are ready to purchase some knives these are the 3 knives that will handle the majority of all your kitchen tasks. If you are investing in quality knives start here and build upon your set.
Paring Knife

: For all the little tasks: cutting small fruits, cheeses or hulling a strawberry or tomato.

Serrated Knife

: For breads and cakes.

Chef's Knife

: For all your main chopping tasks: onions, vegetables, meats. This is the main workhorse of the kitchen.
Cutting boards

: Choose Plastic, bamboo, wood or composite materials for best results. Glass boards will damage your knives.
Pans
Sheet pan: For cookies and bacon
Baking pan: For cakes, brownies, casseroles
Sauté pan: For cooking meats and vegetables
Sauce pan, for soups and sauces
Wondering if stainless steel or non-stick is right for you? Watch here!
Utensils

: These are all the tools that make tasks easier. There is a mass amount of kitchen "gadgets". Remember you want tools that will work well for more than one purpose. Here is a basic list of essentials.
Small and large mixing bowl: For holding and mixing items, salads, meatloaf, cookie or cake batter.
Whisk: Makes for fluffy eggs, creaming batters, blending sauces and whipping cream.
Rubber spatula: To scrape the sides from a pan or bowl, good for wet mixtures, get a heat proof one to use with warm items or get a wooden spoon to stir as well.
Turner or firm spatula: To flip items like burgers and pancakes without them breaking.
Tongs: To easily grab or flip items that are not as delicate like steaks, chicken, hot dogs or pull larger items from a pot such as corn or boiled lobster.
Grater: For shredding cheese, vegetables, chocolate, they come in a variety of sizes a Box grated will have several options in one.
Strainer: To remove a substance from a liquid, draining pasta, vegetables and removing particles from sauces or soups.
Peeler: To remove the skin from vegetable like potatoes and carrots, but can also make "vegetable ribbons" and shave items like chocolate and cheeses.
Can Opener: To open a variety of canned food items.
Measuring cups and measuring spoons great for actuate amounts a must for baking.
Optional items that are also very useful:
Slotted Spoon: Good for removing items from a liquid like frying or serving items without  sauce.
Garlic press: To quickly add garlic to something without using the cutting board and knife.
Zester: Easily adds flavor to items by removing the rind from citrus, grates fresh spices like nutmeg, and can finely grate chocolate and hard cheeses.
Appliances: Just as there is a wide variety of kitchen utensils there are even more appliances. You need to be careful here as it is easy to purchase these items that are advertised to help you in the kitchen but they only really do one task well. Look for items that are well made and can serve multiple purposes to maximize efficiency. These items are to make a task easier if it is not doing that consistently get rid of it. Appliances usually take up a lot of space so keep your kitchen storage space in mind with every new appliance you purchase.
My Top 3 Appliances for Efficacy and Most Practical Uses:
Crockpot: The crock-pot is wonderful for making meals ahead and can be used used as a warmer for parties. Perfect for when you don't have the access to a range or stove but still want a hot meal; or when you need to transport hot foods. Perfect for the pot-luck.

Stand mixer/Hand mixer

: Perfect for quickly and easily mixing butter, and whipping cream. If you like baking it's a must for saving your arms from doing all the stirring. Some stand mixers even come with helpful attachments to help reduce space while they still have those specialty items like a pasta maker, ice cream maker or meat grinder.

Beverage blender

: The classic beverage blender for fruit smoothies, milkshake and margaritas; it can also be used to pure soups and sauces.
Optional items that are also very useful if you have the space:
Rice cooker: Makes perfect rice every time. Also good for steaming items; perfect for making delicate hot items without using the stove.
Stick blender/Immersion Blender: A must if you like pureed soups as this can blend directly in the pot.
Food Processor: makes chopping, grating and slicing much quicker when working in large batches. Perfect for chopped vegetables, grounding nuts, making breadcrumbs and coleslaw.
Are you a new homeowner, looking to organize or downsize your kitchen for more? You will also enjoy this article.
What kitchen tool do you find most useful? I would love to hear your thoughts, thanks for sharing.