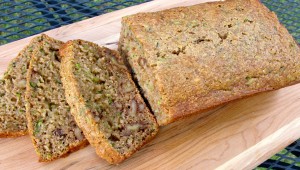 1 cup all purpose flour
1 cup whole-wheat flour
½ teaspoon baking soda
¼ teaspoon baking powder
¼ teaspoon salt
1 teaspoon cinnamon
½ teaspoon nutmeg
1 egg
1 cup white sugar
1 teaspoon vanilla extract
½ teaspoon almond extract
½ unsweetened applesauce (if it is sweetened reduce the sugar by ¼ cup)
1 ½ cups grated zucchini, squeezed to remove some of the moisture
½ cup chopped walnuts, optional.
Preheat oven to 350 degrees F.
Lightly grease a 9x5in loaf pan.
In a medium bowl combine the all purpose flour, whole wheat flour, baking soda, baking powder, salt, cinnamon, and nutmeg.
In a separate bowl add the egg, sugar, vanilla, almond and applesauce. Add the zucchini into the egg mixture. Add the flour mixture and stir until all ingredients are incorporated. Stir in nuts if desired. Pour into the prepared loaf pan.
Bake in preheated oven for 50-65 min until a toothpick inserted into the center of the loaf comes out clean. Allow bread to cool in the pan for 5 min then remove to a wire rack.