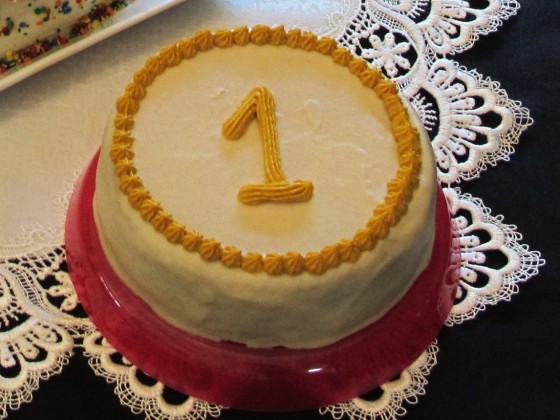 (Gluten-Free, Refined Sugar Free and totally delicious Birthday Cake)
Last week, I shared about my continued commitment to make real food practical and approachable for busy moms. I am really excited to share this recipe and hopefully give you a little something extra to celebrate at your next birthday party.
The cake is the iconic symbol of a birthday. They go together and no celebration is really complete without a cake for blowing out the candles. Yet today, I meet so many people who feel they can't have or enjoy cake because traditional ingredients like wheat flour, refined sugar and food dyes cause health issues. I also experienced this problem.
My little Alexander had a severe case of eczema that was irritated by wheat. I didn't want him to miss out on the fun celebrations of having that 1-year-old big boy birthday cake. I got to work making a gluten-free, dye-free, refined sugar free cake, frosting and all.  It was 100% delicious! You would never know there was anything different about this cake unless I told you. The best part, I didn't feel guilty or worry he was having too much or going to have a sugar crash because this cake was made with only real ingredients that are actually good for you. Yes, a cake that is good for you. I know, exciting stuff! So this birthday, celebrate just a little more, let loose and enjoy because yes, you can have your cake and eat it too!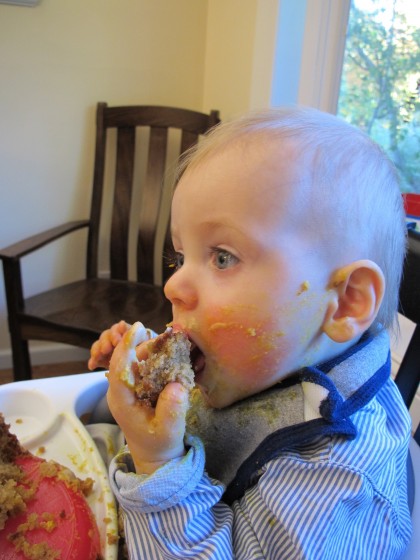 (1 year old Alexander loving his gluten-free, dye-free, refined sugar free birthday cake)
Gluten-Free Birthday Cake
Makes 2, 6×2 in cakes or 1, 9 in cake
1/3 cup melted butter, coconut oil or regular cooking oil
2.5 cup almond flour
4 eggs
1/2 cup honey
2 teaspoons lemon juice
2 teaspoon vanilla or almond extract
1 teaspoon baking soda
¼ teaspoon salt
Preheat oven to 325 degrees.   Lightly grease and line pan bottom with a circle of parchment paper.
In the bowl of a food processor, combine all ingredients and process for 45 seconds until smooth, scraping down the sides if necessary.
Pour mixture into prepared pans (dividing batter evenly if using two-smaller pans). Place cake on the center rack and bake for 30 minutes until toothpick inserted in the center comes out clean.
Let cool in pan for 20 minutes, loosen side and invert onto a cooling rack. Remove parchment paper and cool completely before frosting.
Cakes can be frozen unfrosted for up to 1 month. Allow cakes to cool completely and wrap tightly in plastic wrap and then foil.
Frosting:
1 stick butter, softened
¼ cup  full fat coconut milk
¼ cup  coconut flour
½ cup honey
1 teaspoon vanilla extract
Combine all frosting ingredients in a mixer or blender. Blend well until mixture is smooth and creamy (it will be a little runny but will thicken as it sits). Allow mixture to sit for 20 minuets before frosting on completely cooled cakes.
Cakes can be frosted and kept refrigerated overnight or frozen for up to 2 weeks.
I tinted some of the frosting with Turmeric to make it yellow. Note the turmeric did stain Alexander's closes pretty badly so I would recommend putting baby in a simple onesie before letting them dive in.
Stay in touch and share this article if you want any of the things below:
Helpful secrets and techniques to make your life easier and more enjoyable;
Simple, delicious recipes that actually work; there are so many bad recipes out there! I promise to only give you the best;
Ways to get meals with real, wholesome, unprocessed foods on your table quickly;
Practical entertaining advice on the ways for the whole family to participate and enjoy the meal;
Stronger relationships and family connection.