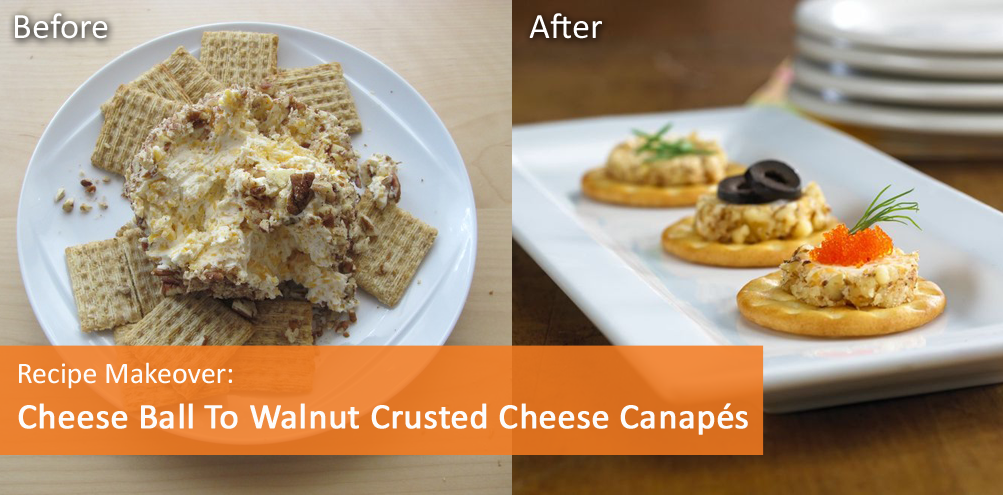 Say Cheese! Cheese Ball to Walnut Crusted Cheese Canapés
Taken from The Pretty Plate cookbook, making everyday meals magnificent
Why it's loved: A family favorite that tastes great, is easy to make and is a perfect appetizer
The Problem: After one or two people start eating it looks like a mess and is not very appetizing to the rest of the guests
The Confident Cook Fix: Change the shape, Instead of making this recipe into a large ball shape it into a log. This not only makes it spread farther to feed more people. It makes for beautiful appetizers. Also, it freezes better for advance preparation and quick thawing before a party.
Recipe:
Walnut Crusted Cheese Canapés
2 tablespoons minced onion
3 chicken bouillon cubes dissolved in 2 tablespoons of hot water (OR 3 teaspoons of granules)
3 cups cheddar cheese
16 ounces softened cream cheese
½ teaspoon garlic powder
2 cups finely chopped walnuts
A variety of gourmet crackers or crostini (toasted slices of bread)
In a medium bowl, mix the onion, bouillon, cheddar cheese, softened cream cheese, and garlic powder together until thoroughly combined to create the cheese mixture.
On a large sheet of plastic wrap, spoon half of the cheese mixture into the center lengthwise. Use the plastic wrap to roll the cheese mixture into a tube. Wrap the plastic around the cheese and mold it with your hands into a 1 inch diameter log.
Spread the finely chopped walnuts onto another clean piece of plastic wrap. Unwrap the previously formed cheese log and place roll it on the walnuts. Using your hands and the edge of the plastic wrap, firmly press the walnuts into the cheese, being sure to fully coat the cheese log.
Remove the well-coated cheese and place it on a clean piece of plastic wrap. Tightly wrap and chill at least two hours. It can also be frozen at this point for up to 6 months and thawed for later parties.
Success Tip: Make sure the walnuts are chopped fine or cutting it later will be difficult.
Remove the well-chilled walnut-crusted cheese and place on a clean cutting board. Carefully slice into ¼ inch-round slices and place on your desired gourmet crackers or crostini. Serve with a garnish of fresh herbs, sliced olives, caviar, baby shrimp, or whatever your creativity suggests.
This application can vary depending on how much time you have and how fancy you want to make your appetizers. If I was running late and having guests over I place a large section of the log on a plate, surround it with crackers and a serving knife so that guests can serve themselves. If I have plenty of time I would slice and assemble the crackers with garnishes in advance, then put them on a serving plate ready for guests to grab and eat.
Makes: 2 – 18inch logs
Video:

Appetizers in an instant