These are a recent quick meal addition as I was testing out Red Palm Oil. I found I love to use it when making these simple Fish Tacos. The Red Palm oil gives the fish a vibrant color, additional health benefits and a subtle unique flavor. Top with fresh salsa and enjoy this simple healthy dish.
Simple Fish Tacos with Fresh Salsa
Fish:
2 Tablespoons Red Palm Oil or coconut oil
1 lb mahi mahi, cod, tilapia, halibut, or other white fish
Fish Marinade:
¼ teaspoon turmeric
2 garlic cloves, minced (about 1 Tablespoon)
1 Tablespoon lemon or lime juice (fresh)
2 teaspoon soy sauce or tamari
2 teaspoon honey
¼ teaspoon salt
¼ teaspoon black pepper
Salsa:
2 medium tomatoes, diced
½ cup cilantro
2 cloves garlic, minced (about 1 tablespoon)
1-2 Tablespoon lemon or lime juice
1 small red onion, chopped (about ½ cup)
1½ teaspoon jalapeno pepper, minced, optional
½ teaspoon salt
¼ teaspoon pepper to taste
Other:
4, 6in corn/flour tortillas
1/2 cup white Mexican or cheddar cheese, grated, optional
2 cups shaved romaine, or cabbage
½ avocado, sliced or diced, optional
INSTRUCTIONS:
In a small bowl combine all the fish marinating ingredients. Chop fish into ½ in cubes. Lightly stir to coat in sauce and allow to marinate at least 15 minutes but as long as overnight.
Chop and mix all ingredients for salsa in a bowl. Set aside. Prep remaining ingredients like grating cheese, chopping lettuce and slicing avocado.
When ready to eat, heat sauté pan over medium heat add red palm oil. Remove fish from marinade discard any excess liquid. Sauté the fish in red palm oil until cooked through about 3 minutes. You may need to do this in 2 batches if your pan is smaller. Remove from heat and cover to keep warm.
Warm tortillas if desired top with shredded lettuce/cabbage, fish, fresh salsa cheese and avocado if desired. Adjust salt, pepper and lime juice to taste. Serve hot.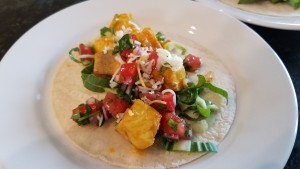 Learn more about the health benefits of Red Palm Oil Here