Restricted diets don't have to mean that you're deprived of foods you love. Gluten-free and dairy-free can be healthy and delicious.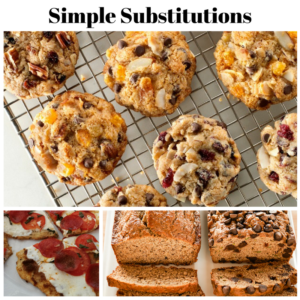 The Simple Substitutions Series focuses on creating some common favorites, so you or your loved one(s) with a restricted diet doesn't feel left out or deprived. These healthy versions of gluten-free and dairy-free recipes use real foods, no extra gums or refined sugar, to make them taste good. They are healthy alternatives that produce guilt-free delicious food that anyone will enjoy.
The Simple Substitutions Classes include:
Cauliflower Many Ways
Unique nutritious substitutions for starches
Learn how cauliflower can be a substitute for many starch-based items like bread, pizza crust, potatoes and rice.
Introduce more vegetables into your meals
Learn the easiest way to make cauliflower crust and how to always have it on hand
Discover simple steps to perfect cauliflower rice
Better "Breads"
Nut-based, gluten-free bread that tastes delicious
Learn how one gluten-free bread recipe can easily be adapted to make several flavor varieties.
Eat gluten-free without all the gums and extra junk
Learn how to easily adapt a recipe to fit your needs and tastes
Save money and eat better by making your own "bread"
Guilt-Free Treats
Sweets that are actually good for you
It's not your fault; we are naturally hardwired to crave sweets. Learn how to make versions of sweet favorites that you won't feel bad about.
Feel good about the desserts you choose to eat
Enjoy treats that are both decadent and healthy
Have options for snacking that support a healthy diet
Enjoy guilt-free chocolate, cookies and more