Since Thanksgiving is such a big meal, you really don't need appetizers. Yet, as I broke the meal into three parts to help accommodate a variety of guests' needs and schedules by creating invitation of casual courses to include a cocktail hour.
Here is the first part of Thanksgiving Guide: How to Plan the Perfect Meal
Step 2: Planning The Thanksgiving Menu (Dinner)
For appetizers I kept it all pretty simple, all things that can be made in advance, things that can be set at room temp if needed, and a mix of hearty and light snacks to go with drinks but not have people fill up too much before the meal.
Remember, with appetizers it is easy to get carried away with a bunch of "cute" options, but most of these cute options require last minute assembly and garnishing which takes time and energy. Keep your choices simple and crowd-pleasing. The idea is to give you time to mingle with guests – not rush around the kitchen more. Here is what I chose for easy appetizers.
Thanksgiving Appetizers
Assorted cheese tray with fruits
Assorted Olives and nuts
Assorted sausages with truffle pate and rustic crackers, mustard and preserves
Sausage stuffed mushrooms
Prosciutto wrapped Asparagus
White truffle Parmesan popcorn
The two time-consuming items were the stuffed mushrooms and Prosciutto asparagus, but both of these items could be assembled the day before and just needed to be put in the oven right before guests arrived. I also did not make too many of them as this was not a cocktail party; these were meant for each person to have one maybe two and snack on a few other items while they enjoyed a drink and conversation before dinner. When they were gone, they were gone. This also saved time from having to clean up and put away leftovers.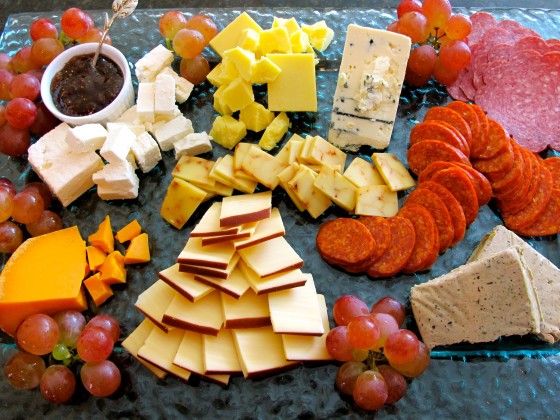 (One of my Assorted Appetizer Plates)
I rely on at least one "assorted platter" for every party I host mainly because even the very picky eater can find something safe to eat from it. These platters can always be made in advance, require no additional cooking and provide a variety of very pretty tasty items for people to choose from. All of these items were also gluten-free, so I didn't have to worry or point out who could eat what -everyone could easily enjoy as they pleased. For your simple guide to no failure in cheese plates and delicious paring options, get your Cheese Plate Paring Guide here.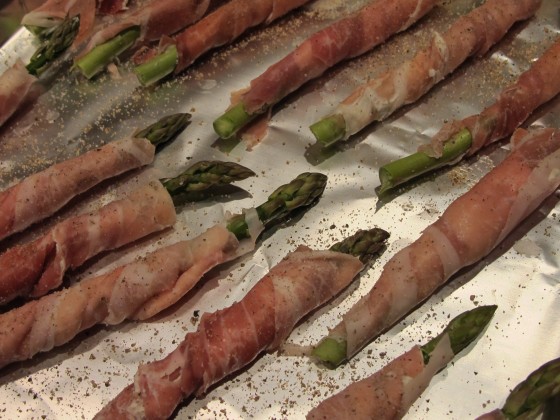 (Unbaked Prosciutto Wrapped Asparagus, perfect made-ahead fancy appetizers)
Prosciutto Wrapped Asparagus
4 ounces cream cheese, softened
1-tablespoon sour cream
6 ounces, 12 very thin slices cut in half lengthwise
24 thin asparagus, washed and trimmed
Fresh ground pepper
Garlic powder
Combine the cream cheese and sour cream in a small bowl. Mix well until smooth. Spread a thin layer on the prosciutto lengths carefully, trying to keep the piece intact. Place the base of the asparagus at the end of the prosciutto and carefully roll it covering the stem. Place the wrapped asparagus on a foil lined baking sheet. Sprinkle it with fresh ground pepper and garlic powder. Place it under a hot broiler for 3-4 minutes rotating half way through, so prosciutto is lightly crispy.
Makes 24.
White Truffle Parmesan Popcorn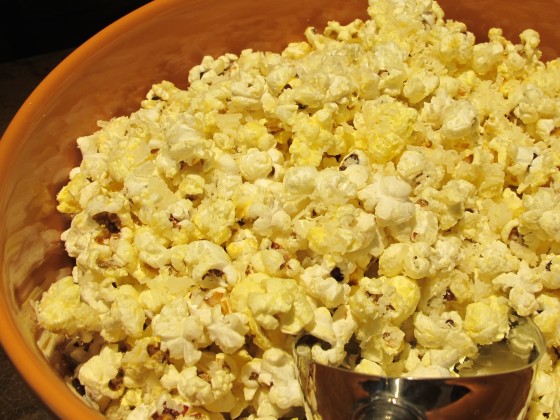 (White Truffle Parmesan Popcorn)
Pop regular popping corn as directed. Drizzle it with butter, white truffle oil, salt, pepper and fresh shredded Parmesan.
Sorry, no recipe for Stuffed Mushrooms, as I made this up on the fly using what I had on hand and did not write it down.
To find more tips and success secrets to planning the Thanksgiving menu, check out Desserts next week.