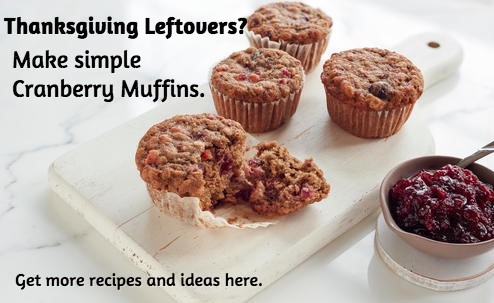 What to do with all that Thanksgiving leftover goodness? You had the big feast, you planned well, and everyone had their fill of delicious food. But now, what to do with all the leftovers? I don't know about you, but I am not one that can eat the same thing day, after day, after day. My husband Joey, on the other hand, would be just fine with this. Whether Thanksgiving leftovers are your thing or not, here are a few creative ways to use up some of the most common leftovers in a new way.
A note on Thanksgiving Leftover Safety
Before we get into the recipes, remember to keep the food safe. One of the leading causes of food-born illness comes from improper cooling and storing of cooked foods. Follow these simple guidelines to ensure safe eating.
Once the turkey is out of the oven, you have two hours (this goes for all food, actually).
Food should not be left in the temperature danger done at 40-140° for more than 2 hours; this is the standard food safety protocol.
Store leftovers in clean, small containers, so they can cool quickly.
Refrigerated leftovers, if kept well, are generally safe for 3-4 days.
For more information, check here.
Turkey and Carcass
Make Turkey stock and any variety of Turkey soup. Soups are a great way to draw out all the flavors left on the turkey bones and use up any remaining vegetable scraps.
Basic Turkey Stock
1 turkey carcass
2 tablespoons butter
2 large onions, chopped
3 celery stalk, chopped
3 carrots, chopped
1 bay leaf
cold water
salt and pepper
Remove all meat from bones. Reserve nice pieces for sandwiches, and chop all other bits and pieces into chunks for soup. In a large stock pot, melt butter, add chopped vegetables and sauté until tender. Add turkey carcass and cover with cold water. Add bay leaf and season with salt and pepper. Slowly bring to a boil, reduce heat and simmer for 2-4 hours. Remove carcass, then cool. Strain the broth and skim the fat. Discard remaining vegetables and the bay leaf.
For Turkey Soup
2 tablespoons olive oil
2 garlic cloves, minced
1 medium onion, minced
1 large carrot, peeled and minced
1 large stalk celery, minced
1 medium sweet potato, peeled and cubed
1 tablespoon chopped fresh sage
4 cups turkey or chicken stock
1 bay leaf
2-3 cups shredded or cubed turkey meat
In a large soup pot, heat olive oil, and heat garlic; add onion, carrot, celery and sweet potatoes. Sauté over medium-low heat until softened, about 7 or 8 minutes. Add chopped sage to the soup pot, along with the broth and the bay leaf. Bring to a simmer. When simmering, add meat to the soup. Bring it back up to a simmer. Simmer for about 5 more minutes, until sweet potatoes are tender.
Make it different and try adding some of your own touches:
fresh green beans
cooked rice
noodles
corn, hominy
green chilies
chipotle in adobo
Change up the seasoning with: rosemary, thyme, coriander , cloves, star anise or cinnamon
Mashed Potatoes
I love making mashed potato pancakes; they can be sweet or savory and served any time of day.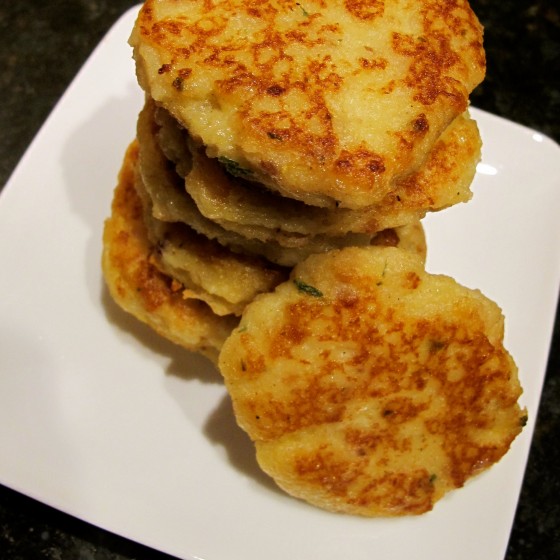 1 cup leftover mashed potatoes, room temp
1 large egg
¼ cup milk
1/3 cup flour
½ teaspoon baking soda
pinch salt and pepper
1 tablespoon butter
1 tablespoon oil
In a bowl, mix the potatoes, egg, and milk together until well combines. Add the flour, baking soda, salt and pepper, and milk until smooth. Heat a pan with butter and oil over medium heat. Pour about 1/3 cup of the batter onto the griddle and spread to be about 4 inches wide. Cook flipping once about 3-4 minutes per side. Transfer to a 200°F oven to keep warm while cooking the remaining batter.
Serve with butter, sour cream, or apple sauce. You can also try it with cooked ham, or top it with a fried egg.
Dinner Rolls or Bread
Leftover bread works great as a base for bread pudding. Bread pudding is awesome because it can be sweet or savory and mixed with a variety of seasoning or other additions to fit your desired tastes. Use the Thanksgiving leftover bread, rolls or buns to make this dish your own for breakfast, lunch or dessert the next day.
Sweet or Savory Bread Pudding General Guideline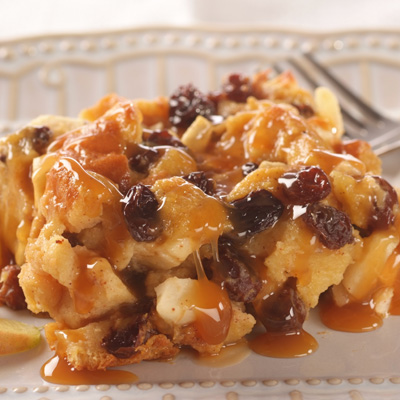 Sweet Bread Pudding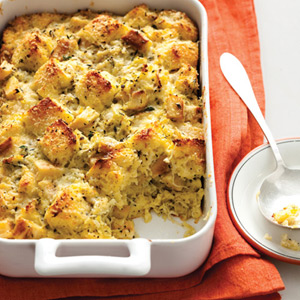 Savory Breakfast Strata
Base:
8-10 cups cubed bread
3 cups milk
6 eggs
 ¼ cup butter
Sweet:
Seasonings:
1 cup sugar
1 teaspoon vanilla
½ teaspoon cinnamon, allspice
¼ teaspoon nutmeg, cloves
Additions:
½ cup pecans/walnuts/almonds
1 cup raisins/cranberries/apricots
Drizzle with caramel sauce or maple syrup if desired to serve.
Savory:
Seasonings:
1 teaspoon salt
½ teaspoon pepper
1 teaspoon mustard (dry or Dijon)
1 teaspoon hot sauce (optional)
Additions:
1-2 cups ham, bacon, or sausage
2 cups cheddar, Swiss, or Colby jack cheese (reserve ¾ cup to sprinkle on top)
¼ cup chopped onion
1 cup total of your choice, chopped bell pepper, sautéed mushroom, asparagus, summer squash
Lightly butter a 9×13-inch baking dish. Spread the bread cubes in it. In a medium bowl, whisk together the milk, eggs and the seasonings for either the sweet or savory options. Mix any additions into the bread to create you own signature Sweet Bread Pudding or Savory Strata. Pour the milk and egg mixture over the bread cubes. Let it stand overnight until the bread is fully soaked. Before baking, drizzle with melted butter. Cook in a 350°F oven for 1 hour till bubbly and set.
Leftover Cranberry Sauce
Cranberry Spreads:
There is so much to do with leftover cranberry sauce! It can easily be used in both sweet and savory applications. One of the simplest ways to use leftover cranberry sauce is to mix a little into a softened cream cheese, yogurt or mayonnaise to make delicious spreads for toast, dips for fruits or yogurt parfaits and sandwich spreads.
Cranberry Grilled Cheese:
If you want a savory treat, make a cranberry grilled cheese. You can use white cheddar or brie cheese and extra turkey, apples or pears slices if you have them on hand.
Cranberry Muffins, Bread and Pancakes:
Baking is also another option. Try the recipe below for simple cranberry muffins or for something even easier – just a little leftover cranberry sauce to your favorite store-bought bread, muffin or pancake mix.
Cranberry Syrup:
Speaking of pancakes, here is one more way to make them extra special. Make a delicious cranberry maple syrup. In a small saucepan mix equal parts maple syrup with leftover cranberry sauce, and add a splash of orange juice. Bring to a boil and simmer for 5 minutes until slightly thickened. Allow to cool and serve.
Simple Cranberry Muffins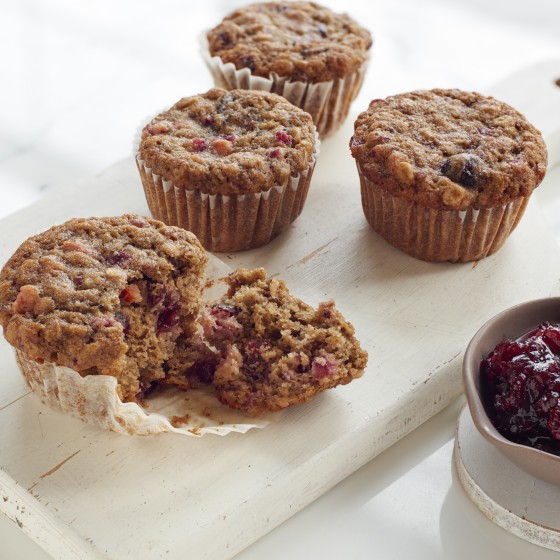 Makes about 12 standard size muffins. The recipe takes about 35 minutes.
1 1/2 cups all-purpose flour (you can use 1/2 cup whole wheat flour if your prefer)
1 cup rolled oats
1/2 cup brown sugar *
1 teaspoon baking powder
1 teaspoon baking soda
1/2 teaspoon salt
1/2 teaspoon cinnamon
1 cup chunky leftover cranberry sauce
1/2 cup milk
1/3 cup vegetable oil budget
1 egg
* If your cranberry sauce is fairly sweet, you may want to reduce the amount of sugar to 1/3 cup depending on your tastes.
*Optional: add 1 cup walnuts and 1 teaspoon orange zest.
Heat oven to 400°F. Line standard muffin tin with paper baking liners or grease well. In a large bowl, combine flour, oats, brown sugar, baking powder, baking soda, salt, cinnamon, orange zest and walnuts if using; mix well. In a medium bowl, whisk together milk, oil, cranberry sauce and egg; blend well. Fold the wet mixture into dry ingredients all at once, stirring until just moistened. Divide the batter between 12 muffin cups, filling each just about to the top. Bake 20 to 25 minutes, or until toothpick comes out clean when inserted into the middle. Are muffins not your thing? Put this batter is a greased loaf pan and bake at 350°F for 55-75 minutes until toothpick inserted in the center comes out clean.