I don't know about you but I love Free Stuff. Today I am sharing one of my new favorite cookbooks for tasty vegetable inspiration. You can win your copy for Free! All you need to do is like my facebook page and share this post to be entered to win.
So about this amazing book. I want to introduce you to Farm Girl Fresh. I originally bought this book because I liked their no nonsense approach to real food, cooking and recipes free from refined sugar. What I didn't realize is this book is full of tasty vegetable inspiration, easy ways to use a variety of different vegetables. Making incorporating vegetables into a daily diet simple and interesting. The authors Joyce and Colleen are experienced, local, MN "Farm Girls' they are sweet and know their stuff. They feel that, "eating well and having a sustainable healthy family lifestyle starts from the ground up (garden to table or farm to table). It is about taking back the kitchen and preparing simple, healthy meals with pure ingredients." I could not agree more. I love sharing quality food with my family.
The more I do the more excited and willing they are to try new things. Involving children and spouses in the cooking process from the beginning is one way to broaden their tastes for new and healthy foods. Kids especially tend to be more excited to try something new if they had a hand in growing or preparing it.
This book has really useful, and practical tips for growing, preparing, cooking, canning, and freezing a variety of produce so you can get the best quality items all year. I also enjoyed the sections "Dig into This" that share interesting facts about specific produce like that you can ripen tomatoes indoors and tips on how to do it well. Also, "How Does Your Garden Grow" solutions for natural pest and weed control in your garden. Tips on how to plant a garden easily and well. Kids love playing in the dirt, and you can grow food even in something as a simple patio garden pot. You don't need a lot of stuff or experience to have success with a few key vegetables. This book will help set you up both in and out of the kitchen.
Anyways, I love it and I thought you would too. Give this one a try for a guilt free treat. Zucchini Fudge Brownies, recipe below. Yes, these are gluten and dairy free too!
Or like the facebook page and share this post to be entered to win your free copy of Farm Girl Fresh, Eating Pure is a Processed Foods World. It is full of simple recipes with real foods that taste amazing like the Cheesy Roasted Cauliflower and Sweet Glazed Carrots that I know your family will love.
Looking for other solutions to help you eat well?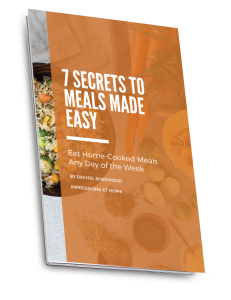 Get our FREE Guide to 7 Secrets to Meals Made Easy here!
Attended one of our upcoming live events like Eat Well for Less or join a hands on class like Dinner Made Easy.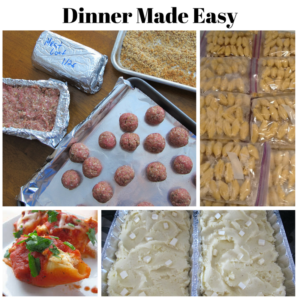 Zucchini Fudge Brownies
1 1/2 cup grated zucchini
1 cup almond or peanut butter
1/2 cup honey
2 teaspoons vanilla
1 teaspoon baking soda
1/2 cup cocoa powder
1/4 teaspoon salt
Preheat oven to 350 degrees F. Generously grease bottom and sides of an 8×8 glass pan. In a large bowl, stir together all ingredients. Pour batter into prepared pan and bake 35-40 minutes. Remove from oven and cool. Cover and put into refrigerator to harden before cutting and serving- this is key. Store in refrigerator. Makes 16 servings.
Recipe from Farm Girl Fresh 
Full Disclosure:
I do not receive compensation for promoting specific products. I will ONLY promote products that I love and currently use myself. I feature these products as they have made my life simpler or more enjoyable in some way. I share them with you only as a resource to better support you in enjoying a simply delicious and healthy lifestyle.
All reviews are my own words and opinions. I share them as an expert in the field and hope these products work for you and bring as much joy to your life as they have to mine.
I will occasionally link to specific sites to help you purchase similar or recommend products. I do not work for or have a relationship with these companies. There are a few companies that I am working on creating affiliate relationships with as I truly love and believe in their products. I will be sure to let you know what these items are or if I have them available for sale. Through these relationships I can usually get you discounts. As always it is my true effort to serve you please contact me if you have questions about this process or products I mention. I am happy to help.
Giveaway Rules:
One new Farm Girl Fresh Cookbook will be given away. To enter to win simply like the Impressions Facebook Page  and share this post. You will receive one drawing entry for each qualified post share up to 10 entries per person.  Winner will be announced through social media and on this site, impressionsathome.com on September 15th 2017. To claim your prize winner must be 18 years of age and provide contact information, including mailing address within 24 hours of announcement or another winner will be selected. Winner will be selected at random. Shipping is free if inside the continental United States. Thanks for participating!